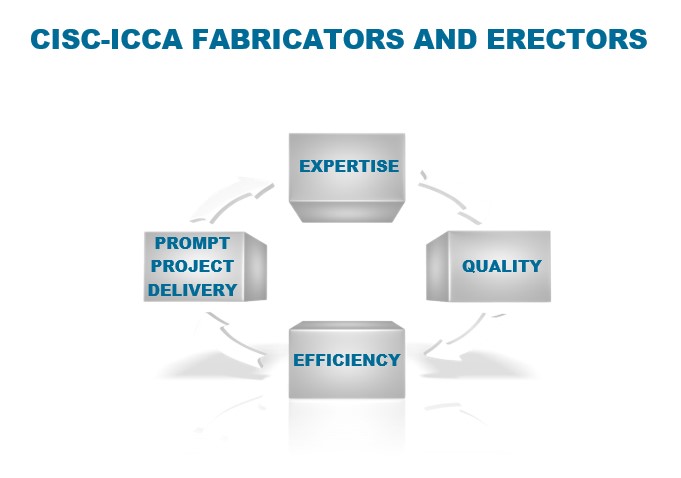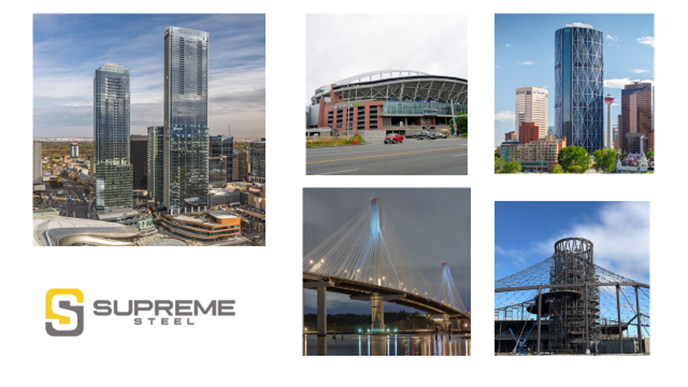 Supreme Steel

Our Story
From rigs to bridges…

Starting out with a single welding truck and a big dream, John and Sally Leder launched a modest western Canadian steel erector business in 1972. They couldn't have imagined the heights they would reach over the coming decades.
They quickly earned the trust to deliver bigger, higher-profile projects, rising to meet increasing challenges of scale and complexity. They made savvy acquisitions, growing their offering and their community across western Canada and the United States. They made smart, early investments in computer software, putting an emphasis on innovation that keeps the company on the leading edge of building technologies to this day.
Navigating the tumultuous ups and downs of the industry through the 1980s, they grew Supreme into the biggest privately held steel fabricator in Canada. But even as the company expanded, they maintained a family-first mentality, where each staff member and partner is treated with respect and care. They gave back to their communities.
Today, that care and experience is evident in transformational projects like the Rainier Tower in Seattle, the Port Mann Bridge in Vancouver and the Diavik diamond mine in the Northwest Territories, to name a few.
But despite its considerable past successes, cutting edge tools and even brighter future, Supreme still has the soul of a hard working prairie couple with a welding truck.
Because, as John likes to say: The knowledge of the past becomes the wisdom of the future.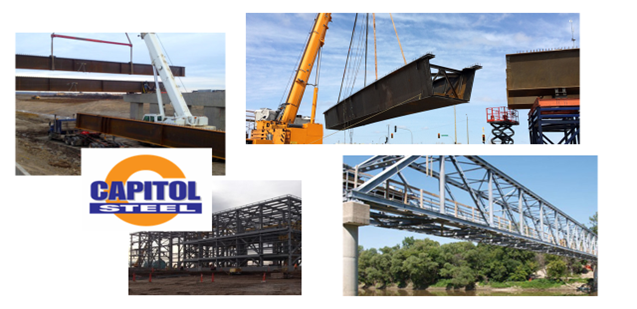 Capitol Steel with locations in Winnipeg and Montreal, excels at fabrication and erection of unique, complex and "heavy" structural steel projects. With diverse experience; intricate, methodical techniques; and passionate people – Capitol adds value to your steel project and does not back away from the challenge.
Our Story – Capitol Steel has grown from a one man, welding operation working off the back of a truck to a highly specialized, structural steel fabricator for some of the largest and most demanding projects in the public infrastructure, commercial construction and heavy industrial sectors.
Our People – They are growing but they don't forget what makes them a value added supplier – it's treating each job as custom and applying the best people and methods. From the founder to those being hired today, the common element that can be seen at Capitol Steel is the passion in the people. Sharing in and committed to the Company values, Capitol's team delivers the reliability and "big picture" thinking that clients need.
Technology – Trimble Robotic – Total Station, Scanner & CAD Software for Layout & Surveying – CNC Detail Equipment including – Plasma Drill Plate Processor – 7-Axis Robotic Plasma Cutting – Oxy Fuel Plate Burning/Drilling – Beam Drills – Large Capacity Machining Equipment – Stress Relieving Equipment – TEKLA 3D Modeling, AutoCAD Civil – 3DFabTrol MRP Computer Management System
Girder and Detail Shop     85,000 Square Feet, with rail and heavy truck access,100 Ton Crane Capacity, 30' Hook Height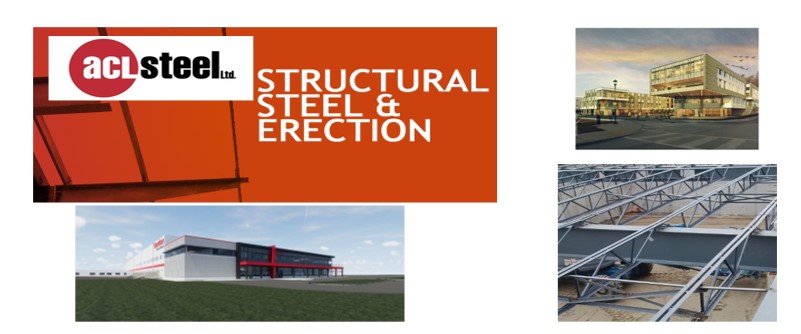 ACL Steel Ltd. is a privately owned company with over 30 years experience in design, manufacture and erection of steel products. They offer a full range of services including fast track, design-build, fabrication and erection of structural steel, miscellaneous metals, steel deck and siding.
You will find their steel anywhere from the Havana Airport in Cuba to the De Beers Diamond mine in James Bay. Their steel is in the school you attend, the grocery or big-box store you shop at or perhaps at work in your office-tower or plant facility.
They are continuously upgrading their facility, training their staff and reviewing internal processes so that their service and product quality is rated superior in the marketplace.
Their history has been to consistently meet the demands of the fast paced and constantly evolving construction and industrial sectors. They manage each project from start to finish so that they are on-budget and on-time every time.
Smart
Making good investment decisions for your existing or new buildings start with smart construction solutions. ACL Steel offers proven industry experience, smart in-house drafting solutions, and an efficient fabrication team which provides you with practical and economical solutions to meet your business or investment needs.
Strong
At ACL Steel they have a strong commitment to offering excellent client service and delivering quality products. Their cohesive team provides open communication lines between any construction team to help streamline design solutions and on-site deliveries.
Fast
Their estimating, in-house drafting, project management, and fabrication teams will work together with you to deliver quality products with speed and efficiency to meet your construction schedules.
Stable
ACL Steel's 30 years of industry experience and dedication to delivering quality products has helped develop stable relationships with their clients and strong foundations for starting new relationships.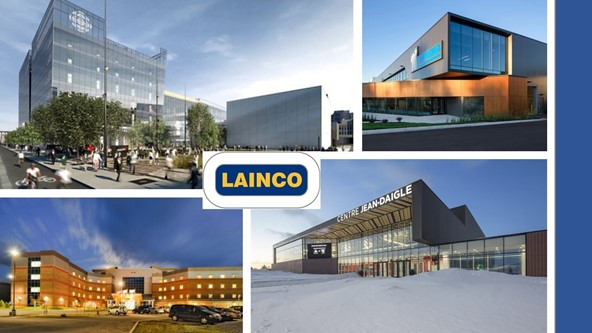 LAINCO stands out by setting new fabrication records thanks to the hard work of its experienced teams. Continuous investments have given Lainco a significant productivity boost, thus reducing execution deadlines while increasing fabrication precision. These investments have also given Lainco the opportunity to expand its expertise in Design and Build-type projects.
Design: Lainco benefits from more innovative knowledge in this domain to provide better steel structures designs to optimize the use of materials, and their engineering department works in close collaboration with research laboratories from various Quebec universities.
Detailing: The proximity of Lainco's detailing department to the design and fabrication teams allows for more efficient communication and coordination. Project production deadlines are therefore reduced, thus decreasing the overall costs.
Fabrication: Thanks to its state-of-the art factory and a versatile team, Lainco can produce any complex structure while staying competitive for more simple steel structures. Lainco's efficient fabrication and quality management allow an unfailing and continuous monitoring of its activities, thus offering superior products in most impressive deadlines.
Installation: Thanks to its innovative design ideas and its close collaboration with its steelworker teams, Lainco devises affordable, safe, fast and efficient installation and shipping procedures for its steel structures.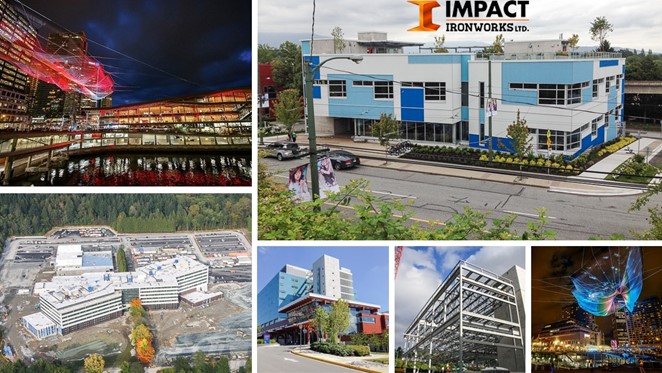 IMPACT IRONWORKS was founded in 2001 and has completed many projects spanning BC, Alberta, NWT's, and the Yukon. Their shop is in the Port Kells industrial area in the Lower Mainland of B.C.
Their shop is well equipped to handle projects of any size, from the smallest of miscellaneous jobs to larger scaled ones specializing in hospitals and high-rises. They employ experienced employees that strive for quality and efficiency.
Their services include:
STEEL FABRICATION: Structural Steel, Miscellaneous Metals, Ornamental Steel
ESTIMATING: Their estimators work closely with clients to value engineer projects to maximize cost savings.
DRAFTING: Impact Ironworks employs a full staff onsite to create quick and efficient drawings used for fabrication and erection. They use the latest 3D modeling software in SDS2 to create precise models that can be seamlessly used in a BIM workflow.
ERECTION: Their crew consists of 30 plus qualified erectors and welders with several mobile welding units.
http://www.impactironworks.com/