Collaborate with industry leaders, share best practices, access cutting edge resources and make your voice heard.
The CISC is the premier association for Canada's steel construction industry, providing organizations with the tools, resources and connections that help Members and Associates to build profile and increase market share.
of the steel used in the Canadian steel industry represented within our membership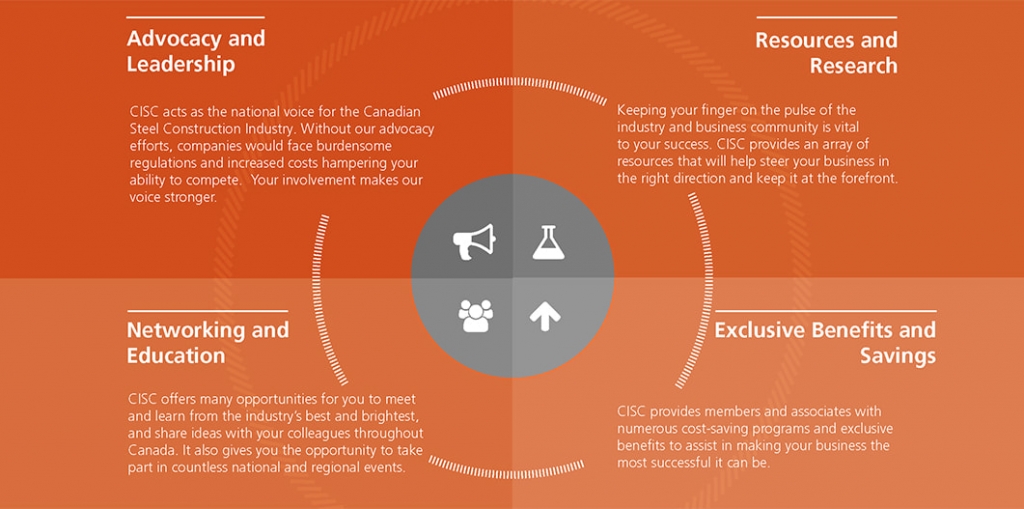 Founded in 1930, the CISC operates as a technical, marketing and government relations organization representing the Canadian Steel Industry.
Canada's voice for the steel construction industry, providing leadership in sustainable design and construction, efficiency, quality and innovation.
The CISC promotes the use and benefits of steel in construction, adds value to the design and construction community and supports the needs of the membership and industry through technical expertise, knowledge transfer, research and development, industry codes and standards, certification, and advocacy.
Join the CISC and connect with a rich set of resources, tools and expertise designed to advance your business:
Participate in Federal, Provincial and Municipal lobbying efforts.
Gain access to presenting at or attending valuable lunch and learn presentations.
Exclusive access to CISC Project Solutions.
Access to the CISC Solutions Centre and Technical Help Desk.
Exclusive access to CISC webinars on trending topics.
Participate in prestigious design awards and engaging industry development events.
Exclusive access to CISC affinity programs.*
Participate in the CISC Quality Certification program, CISC processing fee included in annual dues.
Subscription to Advantage Steel magazine.
Exclusive advertising opportunities in Advantage Steel magazine and on the CISC website.
Exclusive opportunity to participate in the annual CISC SteelDay.
Exclusive access to post on the CISC job board.*
Opportunity to participate on national and regional CISC committees.
Opportunity to participate on national and regional CISC committees.
Exclusive opportunity to sponsor and booth at The Canadian Steel Conference.
Access to projects requiring CISC Membership (where applicable).
Company information posted on the CISC website and Advantage Steel magazine directory.
Eligible to be a voting member of the CISC.*
Eligible to sit on the CISC Board of Directors.*
Access to the CISC logo and marketing materials.
Establish yourself/company as an elite stakeholder in the Canadian steel construction industry.
Opportunities to share best practices within the industry.
Business-to-Business opportunities within the CISC Network.
Opportunity for your company's abilities and achievements to be showcased on various platforms.
Discounted passes to NASCC.
* Available to CISC Members only.