The Canadian Institute of Steel Construction (CISC) is the voice for the steel construction industry. We promote dialogue, collaboration and commerce between industry stakeholders—advancing the benefits of steel to the consulting community, builders and buyers, academia and government.
The CISC is proud to be the premier organization in creating solutions for the critical issues that challenge the steel construction industry.
Every year at Parliament Hill, alongside our Members & Associates, the CISC lobbies all level of government to acknowledge the state of Canada's steel construction industry and to create policies that allows Canadian steel companies to remain competitive while positioning steel as the building material of choice. Together, we urge them to take action on the critical issues that impact that day-to-day lives of Canadian steel companies, communities and people.
This unique opportunity allows key stakeholders and representatives from across Canada to bring forward their experiences on the direct effects these challenges have on businesses and the middle class, while presenting the solutions that will invoke the change our industry needs to succeed.
A special thank you to our Members & Associates from all across Canada who came together to meet various Members of Parliament and Senates to share their voice on the state of the steel construction industry. Our delegation included representatives from Bourque Industrial Ltd., Samuel Son & Co., Capitol Steel, Kubes Steel, Gerdau, Pittsburgh Steel Group, Walters Group, Atlas Tube, Algonquin Bridge, NLM Engineering Inc., Canam Group, Ironworker Management Progressive Action Cooperative Trust (IMPACT), Lainco Inc., Acier Leroux and Acier Altitube.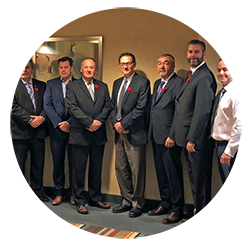 Prompt Payment Legislation

Immediate Removal of U.S. Section 232 Steel Tariffs

LNG Canada's Remission Request Regarding Waived Duties on FISC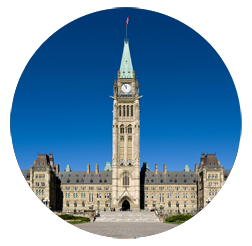 Support for Fair Payment – Vote Yes for Prompt Payment Act (Bill S-224).

Support for Fair Access for Canadian Companies to Canadian Infrastructure Construction Projects.

Support to Stop Unfair and Illegal Trade, Trade Circumvention and the hollowing out of the middle class.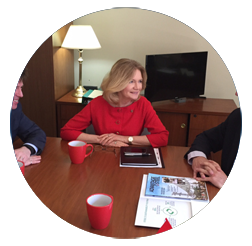 Federal Prompt Payment Policy

Development of Local Procurement Policies for Infrastructure Projects

Policies to Ensure A Free and Fair Global Trade Environment for Canadian Manufacturers
Next Day on the Hill is in 2020
PLAN TO JOIN US