Steel: The world's most sustainable building material
Steel's inherent green attributes, performance features, and its cradle-to-grave life cycle make it one of the most sustainable construction materials on the planet.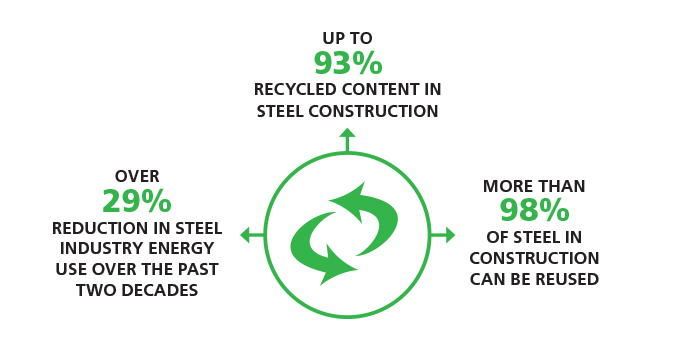 The steel industry has significantly reduced its environmental footprint at every stage of the construction process from raw material extraction and manufacturing to fabrication and erection on job sites.
CISC Structural Steel EPDs and LEED v4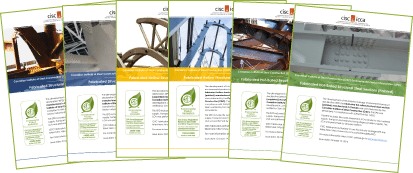 The CISC has developed 6 verified & registered industry average Environmental Product Declarations (EPDs) for structural steel that are available from authorized CISC fabricator members.
Sustainable Steel Construction
Sustainable Fabrication and Construction
Structural steel is fabricated regionally in off-site facilities reducing construction periods by 60%.
Minimal waste is generated at fabrication facilities and construction sites.
Any waste generated is fully recyclable and resalable.
Centralized, off-site fabrication reduces number of on-site workers by 75%.
Modern fabrication technology provides greater precision, productivity, and safety.
Steel members are efficiently transported by truck, rail, or barge.
Sustainable Projects
Steel buildings are easily deconstructed, enabling reuse of the steel members.
Steel-framed buildings are highly durable and have a long life span.
Steel reduces the building weight and footprint by accommodating longer spans with smaller member sections.
Steel framing allows easy integration of mechanical systems, resulting in low floor-to-floor heights, less building volume, and lower energy consumption.
Steel framing systems allow for large window areas, resulting in plentiful natural lighting, higher occupant comfort, and reduced electrical consumption.
Established high demand for steel scrap ensures future reuse/recycling of a steel building frame.
Minimal ongoing maintenance is required.