Exclusive advertising opportunities on the CISC website for Members & Associates!
Drive product sales & brand awareness with over 195,0000 Steel Industry Stakeholders
The CISC website receives over 16 million hits a year from 195,000 unique visitors.
CISC NEWS
cisc-icca.ca/news
Reach a broad base of steel industry stakeholders with direct and focused messaging on our news page!
CISC STEEL KNOWLEDGE BLOG
cisc-icca.ca/steelknowledge
Get your products in front of the country's leading consultants on our Solutions Centre Steel Knowledge blog!
We keep you at the forefront of the steel construction industry by showcasing your products and services with banner and big box ad options!
Want more profile or to communicate additional details?
Our Featured Spotlight option allows for an advertorial with a brief description of your company and new product/service linking to a more detailed blog post.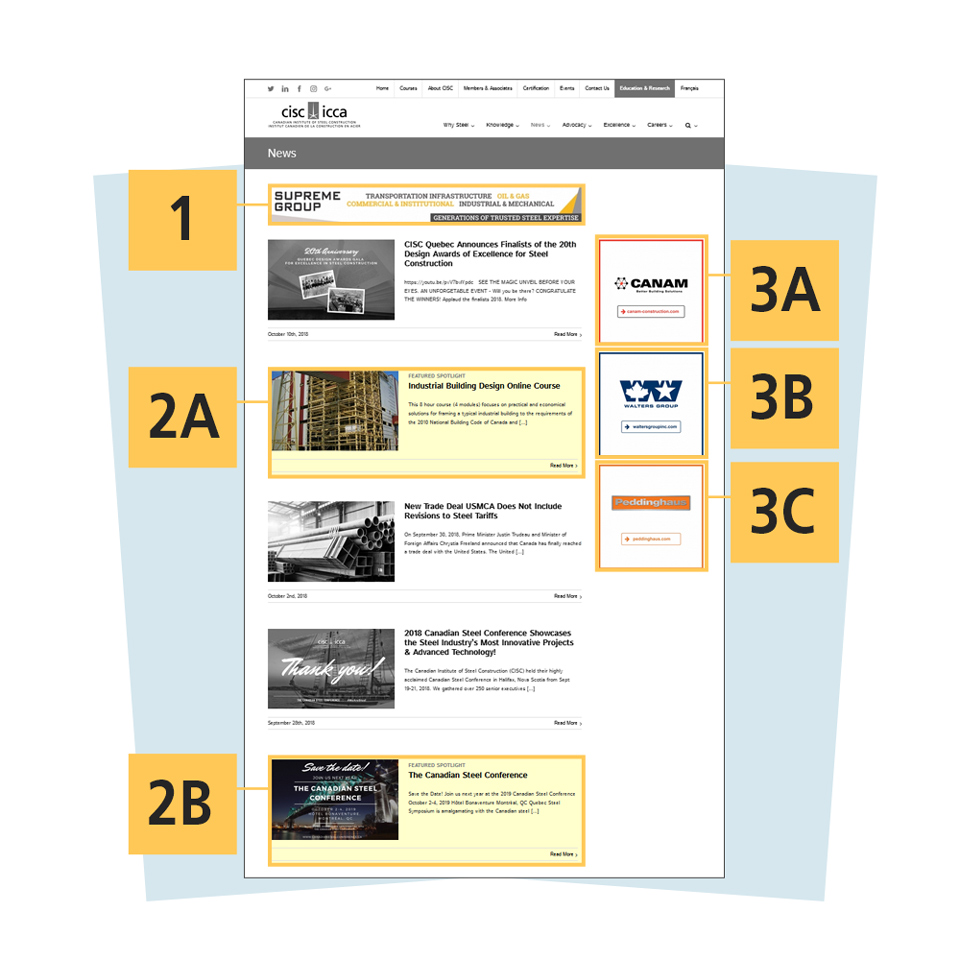 Type
Rate/ Month
1
Leaderboard Banner
$600

Desktop (792px x 98px)
Mobile (360px x 90px)
Include link URL for your product/service
Send content in language selected (English, French, or both)

2
Featured Spotlight
$600

Thumbnail Image – 500px x 328px
Short descriptor (minimum 300 words) that links to the full blog post
Full blog post should not exceed 600 words and 2 images max
Link to organization/company to be displayed at end of post
Send content in language selected (English, French or both)

3
Big Box Ad
$200

Send big box artwork in .jpg format sized at 264px x 264px
Include link URL for your product/service
Send content in language selected (English, French, or both)
Terms & Conditions:
Eligibility. Available only to CISC Members and Associates, and only for the product category and company name appearing in the member and associate record.
Availability. Limited availability. Spots will be allocated on a first come, first served basis.
Confirmation of Booking. Completed online order and payment (online or cheque) and advertising content must be received for advertising booking to be confirmed.
Deadline. Advertising content must be received by the CISC no later than 2 weeks before campaign launch date. No refund will be provided if the advertising material is not received within the deadline.
Terms. Terms start on the first day of the month and end on the last day of the month.
Featured Spotlight. Featured spotlight term is month-to-month. For multi-month blog posts, a new blog post is required every month in selected language(s). Maximum term is 6 months.
Discretion. The CISC reserves the right to decline or request modifications to advertisements that are submitted.
Termination. The CISC reserves the right to terminate the advertising agreement with 10 days notice.
Member or Associate status. Cancellation or suspension of Member or Associate status will automatically result in removal of advertising from CISC website. No refunds or credits will be provided.
Prices. Prices subject to change without notice.
All sales are final, no refunds will be provided.