The First Edition of " Single-Storey Building Design " is now available. This new 124-page publication is the 8th entry in CISC's Design Modules lineup.
Design Module 8 (DM 8), Single-Storey Building Design, reviews the major design parameters and techniques used to produce a functional and efficient design of a storage/light industrial building enclosure using structural steel and steel roof deck. The design model selected also includes a one-storey office building section as an appendage to the main building. This allows the introduction of code related fire separation requirements between the two occupancies.
DM8 is based on the National Building Code of Canada (NBCC) 2015 and CSA Standard S16-14 (Design of Steel Structures).
For this example, there are 5 bays of 12 meters in the longer span direction. The joists span the shorter direction (10.5 m) and the girders span the longer direction (12 m). This results in 2 girder configurations, which repeat 3 and 4 times, and one set of joist loads. Note that if the joists were spanned in the long direction, there would be 4 girder configurations, none of which repeat, and 3 sets of joist loads.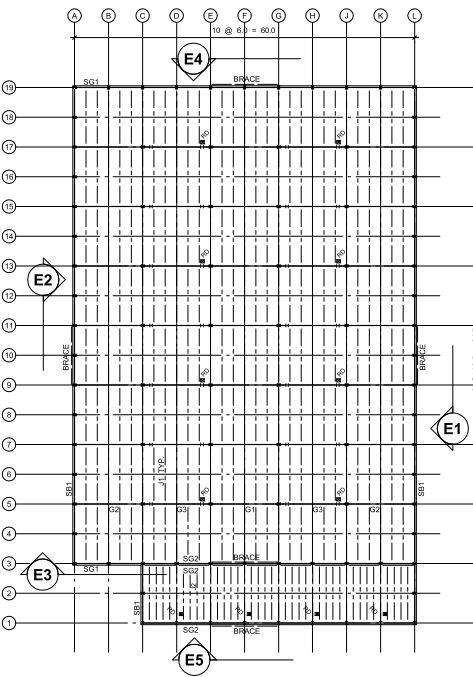 Figure 1
Roof Plan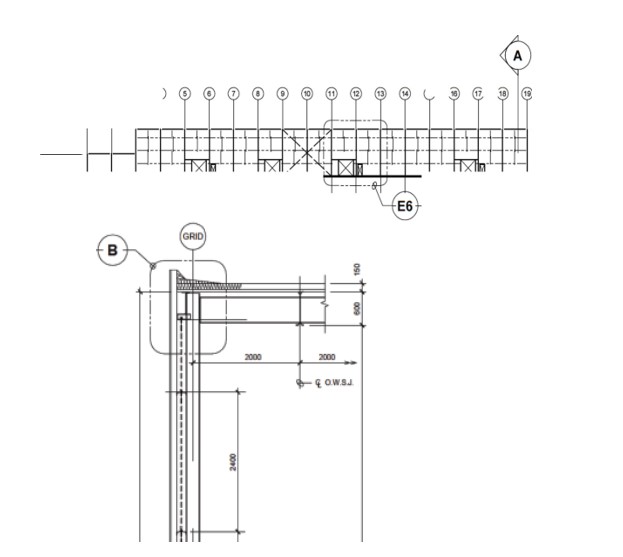 Figure 2
Typical Elevation and Section
Some highlighted topics covered by DM 8 include:
Conventional gravity loads, including a detailed procedure on the handling of rain loads.
Conventional lateral loads, including seismic and wind. Emphasis is placed on the correct application of wind parameters and diagrams in the NBCC 2015.
Roof deck design.
Open web steel joist design and selection.
Design of Gerber Roof Girders, including member selection for cantilever girders and suspended girders (Reference Design Module 3).
Column design (interior and exterior).
Roof diaphragm design.
Example design for end wall and interior girts.
Eave members parallel and perpendicular to girders
Vertical bracing design (tension only).
Example of a typical steel quantity take off.
The new module may be purchased via this link.
https://steelstore.cisc-icca.ca/collections/canadian-steel-design-publications/products/design-module-8-single-storey-building-design