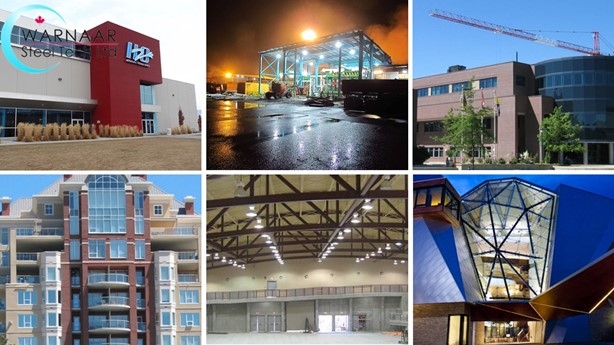 WARNAAR STEEL-TECH provides structural steel fabrication solutions for a variety of applications from institutions to personal residences; sports arenas to mining equipment.
They have expert structural steel fabricators, erectors, and detailers for Industrial, Commercial, Residential, or specialty products.
Their steel fabrication facility, located in Kelowna BC, has the expertise and integrates the latest material handling software and modern steel fabrication construction equipment to provide a production cycle that is of the utmost in consistency, efficiency, and precision. Their Structural Steel Fabrication shop of 2,500 sq. ft. of floor space and a structural steel fabrication production facility of 45,000 sq. ft.
INSTALLATION: They provide a fully qualified installation crew of steel erectors
DETAILING: Their team consists of a fully staffed structural steel detailing department which utilizes Tekla Structures 3D modeling software that has complete structural steel design and detailing capabilities.
FACILITY AND EQUIPMENT: Their Structural Steel Fabrication facility is configured in a flow-through design. The efficiency of this process adheres to documented quality and safety standards. They also offer a Paint Bay in a controlled environment, Cranes, Surface Preparation, Hole Drilling and Cutting equipment.