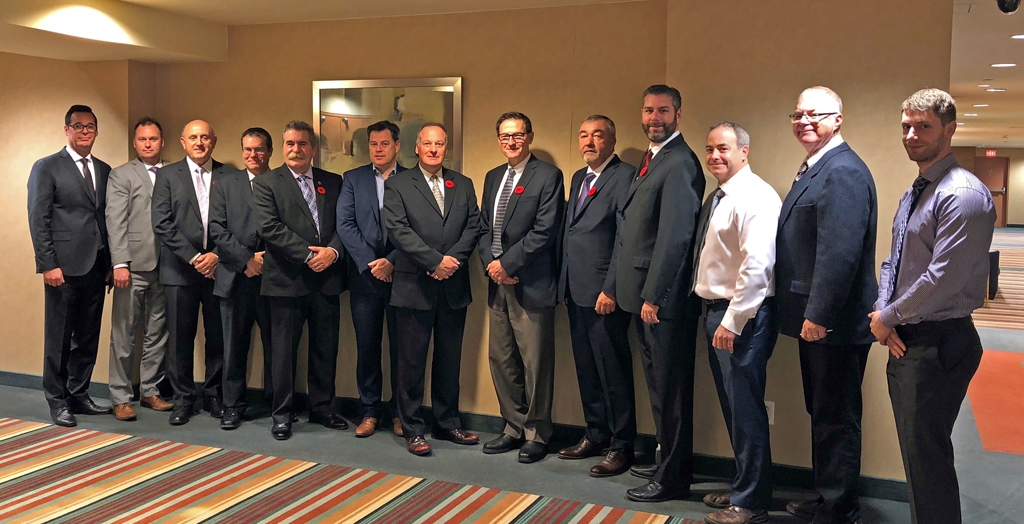 A national delegation of Members & Associates from the Canadian Institute of Steel Construction (CISC) led the discussion at Parliament Hill on November 6, 2018 at the fourth annual Day on the Hill. CISC's Members & Associates met with parliamentarians from all political parties to support and take action on critical issues in the steel construction industry, including prompt payment legislation, the removal of U.S. Section 232 steel tariffs and LNG Canada's remission request regarding waived duties on fabricated industrial steel components (FISC).
Members & Associates from across Canada came together to meet various Members of Parliament and Senates to share their voice on the state of the steel construction industry. Our delegation included representatives from Bourque Industrial Ltd., Samuel Son & Co., Capitol Steel, Kubes Steel, Gerdau, Pittsburgh Steel Group, Walters Group, Atlas Tube, Algonquin Bridge, NLM Engineering Inc., Canam Group, Ironworker Management Progressive Action Cooperative Trust (IMPACT), Lainco Inc., Acier Leroux and Acier Altitube.
Prompt Payment Legislation
The steel industry is urging government for immediate federal prompt payment legislation in construction. The federal government has held one of the largest and most extensive cross-Canadian consultation processes between January and June of 2018. As a result, they have recommendations for immediate legislation from the same lawyers that brought Bill 142, The Ontario Construction Act, into being in 2017. The recommendations have garnered full construction industry support from the general contractors down to the trades and suppliers. Legislation will benefit the small to medium construction companies, which represent 70 per cent of all employers in the construction sector and comprise of 1.4 million people in Canada. Small and medium-sized enterprises (SME) are the real employers of the middle class and need prompt payment legislation now to ensure a future for their companies and their employers. The federal government has the research, the recommendations, the support and the ability to dramatically affect the middle class with no cost to the tax payer. It's time to act.
Immediate Removal of U.S. Section 232 Steel Tariffs
We are advocating for the immediate removal of the 25% steel tariffs imposed by U.S. Section 232. Since its inception earlier this year, the effects of these tariffs, in addition to Canadian countermeasures and world safeguards, have had significant negative effects on the Canadian steel construction industry. The downstream steel construction sectors are facing an increase in contractual risk and uncertainty. Canadian steel fabricators are at a global competitive disadvantage with these tariffs in effect, putting their ability to secure contracts on large infrastructure or industrial construction projects at risk. For the sake of Canadian companies and their employees, it is imperative that the Canadian government negotiates an immediate resolution for steel tariffs.
LNG Canada's Remission Request Regarding Waived Duties on FISC
The Canadian government is considering granting a duty remission to LNG Canada (with one of its partners being Petro China) on fabricated steel, allowing the entire project to go to China at the expense of Canadian construction jobs and tax payers' money. The Canadian International Trade Tribunal (CITT) levied trade duties against China in June 2017 after China was proven to be illegally dumping fabricated steel into Canada at up to 48 per cent, in addition to illegally subsidizing its industry up to $2,300 per metric tonne.
"The Canadian steel fabrication industry is quite capable and able to complete this project and other projects like it," says Ed Whalen, President & CEO of the CISC. "The argument that Canadian trades don't have the expertise and that the project is too complex for Canada is just plain false. The real story here is that there is no place in the world where illegal dumping and subsidizing is so extreme than in China, and that is the reason why players like Shell and Petro China (partners in LNG Canada) want to go to China. It is all about illegally cheap construction."
Canadian trades and FISC producers have a proven track record of producing the best and most complex industrial facilities in the world, with the highest quality and safety records. It is imperative that the Canadian government stands behind our industry to prevent $40 billion of free and fair construction contracts from going offshore to a proven dumping and subsidizing nation. The Canadian steel industry is urging the federal government to uphold the ruling of the CITT and hold LNG Canada accountable for the duties applied to imported steel from China.
"It is important to acknowledge the significance of the Canadian steel construction industry and the vital role it plays in employing the middle class," says Whalen. "As a nation, we must ensure that we are protecting our industry while giving it the best chance to strengthen and grow—which includes proper prompt payment legislation, fair trade and the opportunity to fairly bid on construction projects."