CISC's Steel Design Awards for Excellence is Canada's most prestigious and highly esteemed steel award ceremonies, hosted in various cities throughout the country. Every year we welcome hundreds of project submissions and dynamic industry participation to celebrate excellence in steel design in various categories. While recognizing those who contribute to the success of Canada's steel industry, including architects, design engineers and project teams, this exciting event allows us to connect with the leaders of steel innovation!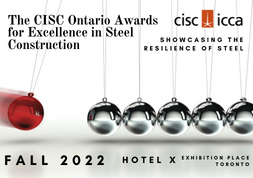 The CISC Ontario Awards for Excellence in Steel Construction 2022
Postponed to Fall 2022 
Princess' Gates Ballroom
Hotel X, Exhibition Place, Toronto
Registration @ 6 pm
Reception @ 6:30 pm
Dinner & Awards Ceremony @7:30 pm
Post Reception @ 9 pm
Admission:
$2,160.00 / Table of 10
$290.00 / Single Ticket
Tickets available until TBD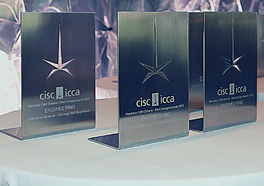 Award Categories
We encourage all architects, design engineers and project team members who have completed steel projects to submit them under one of the 7 award categories for the consideration of our judges.
→ Submission Information and Criteria
→ Project Categories
Intention to submit deadline: August 31st, 2022