2012- 2013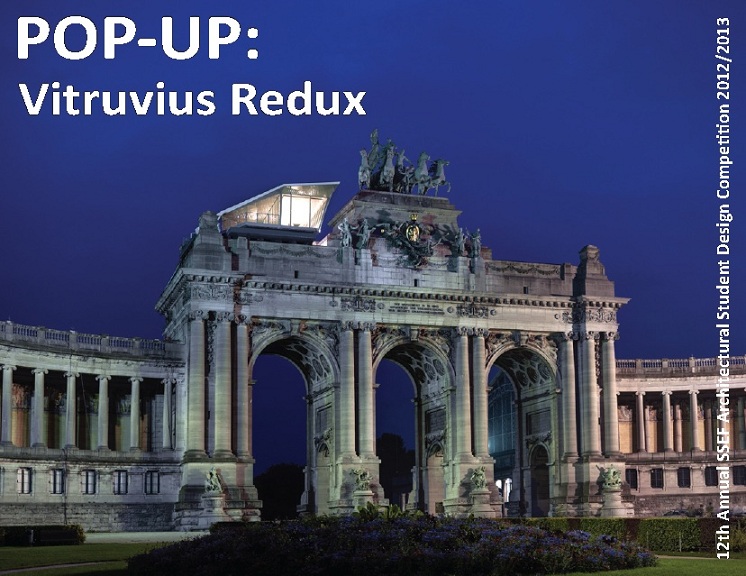 CISCWebAdmin
2017-05-02T12:03:49-04:00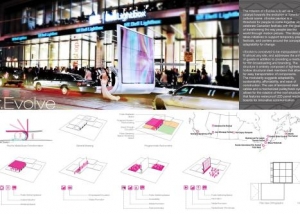 CISCWebAdmin
2017-02-17T10:42:59-05:00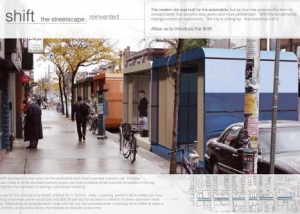 CISCWebAdmin
2017-02-17T10:40:54-05:00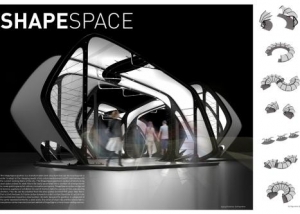 Judging Panel
Paul Seibel- ACL Steel Ltd.
Holly Jordan- B+H Architects
Loraine Fowlow- University of Calgary
Neb Erakovic- Yolles, A CH2M HILL Company
The Challenge
In her article "Pop-UP Populism," on the growing phenomenon of Pop-Up architecture, Kelly Chan writes:
Vitruvius's virtues roughly translate to "utility," "durability," and "beauty."  But for centuries now, this association of great architecture with fixed and timeless permanence, along with the entire Vitruvian triad, has been losing traction. Our environment has been built, altered, and rebuilt in overlapping waves. While some buildings stand the test of time, most seem to expire in relevance. Grand architectural and planning schemes are increasingly rare. In fact, we fast-forward to today, and it seems that we are collectively swinging towards a polar opposite of Vitruvian values. We are moving towards an architecture in which the permanent is becoming a lot less permanent.
http://www.artinfo.com/news/story/802841/pop-up-populism-how-the-temporary-architecture-craze-is-changing-our-relationship-to-the-built-environment
A related movement articulated by New York's Projects for Public Spaces calls for a new set of Vitruvian principles: "Light, Quick and Cheap," as response to contemporary cities struggling to do more with less, to find creative, innovative and quick ways of addressing urban issues, and to respond to their communities in a meaningful fashion. Projects such as Brooklyn's DeKalb Market, Oakland's Popuhood, San Francisco's parking stall parks, and a multitude of gallery and market installations are manifesting and testing these new principles. Temporary in more than the temporal sense, these designs eschew disposability in favour of changeability: they are responsive to change in use and time. Students are invited to engage in an exploration of POP-UP as an architectural and structural concept. To that end, we encourage students to conceptualize and design a POP-UP architectural installation that incorporates the goals of being:
• [truly] sustainable
• temporary
• socially relevant
• responsive to site
While they may range from utilitarian to exquisite in their execution,all responses must come to terms with one simple problem: the clear incorporation of POP-UP in a design that utilizes steel as the primary element for structural form.
Competition Statement
The intention of this design competition is primarily to provide students of architecture in Canada with a unique opportunity: to enter into a design process that brings together, of necessity, concept and reality. It is important for students of architecture to grasp the fact that structural design lies not just in the realm of the engineer, but can be a means for architects of arriving at a meaningful realization of architectural ideas. It is when theory meets physical necessity that architecture can become really interesting.
To that end, this competition calls upon students to conceptualize, and realize in detail, a structure of simple program that explores POP UP! The exploration will, of course, include issues related to program
and site, but the emphasis in this competition is upon the architectural exploration through form and material, on the essential relationship between architecture and structure.
The reality of this competition comes in two forms: through the requirement for buildable details, primarily utilizing structural steel; and through the collaboration with the steel fabrication industry on those details. This collaboration is an important component of this competition, as a secondary objective is to expose students to both the opportunities and restraints inherent in realizing conceptual design.
The conceptual component of this competition will come through the recommendation that this competition be run through either a studio, or a lecture based course, most probably within a structures course. Under the guidance of faculty sponsors, students will conduct the design process as an academic exercise, within the guidelines set out in this brief. As an academic project, the design process will adhere to the standards set forth by the students' school of architecture.