The CISC SteelExchange creates the opportunity for the Canadian Steel Construction community leaders to connect and gain knowledge through targeted webinars on a variety of relevant topics. CISC is expanding its reach to all the steel construction stakeholders community to engage through this virtual approach.
The CISC is the destination for the Canadian steel construction leaders to connect and succeed. We have moved to a virtual approach in the interim, to facilitate stronger connections within the steel community.
There are three ways to leverage this service to meet your virtual networking needs, so please:
Preview our list of upcoming CISC SteelExchange topics and register for free!
Get ready to network in the virtual format at convenient times!
Register for CISC's email communications HERE to ensure you are in the know of all the exciting and innovative CISC SteelExchange topics to come.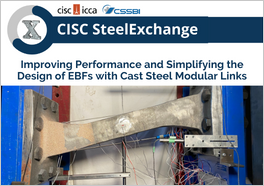 Improving Performance and Simplifying the Design of EBFs with Cast Steel Modular Links
Michael Gray, Ph.D., P.Eng.
Executive Vice President, Castconnex
Type D eccentrically braced frames (EBFs) are a popular steel frame due to their relatively high seismic force modification factors, Rd and Ro. However, difficulty in optimizing link beams for both gravity and seismic forces has led to a shift in popularity from traditional EBFs to modular EBFs. Modular EBFs are designed using a bolt-in fabricated link element for the inelastic segment between the braces of the EBF. The modular EBF offers additional benefits including simplified field-bolting of the steel frame during construction, and ease of repair/replacement post earthquake.
A challenge in using modular EBFs is that the link elements are complex fabrications that require demand critical complete joint penetration welds to the end plates and complex full-depth stiffener plates. A new research project at the University of Toronto has focused on testing full scale cast steel modular link elements., which would eliminate the need for the labour-intensive manufacturing of fabricated modular links.
This presentation will introduce the concept of the replaceable cast steel links. Test results from component testing and full-scale frame testing will be presented. Observed ductility will be compared to a cyclic ductile low-cycle fatigue fracture model for cast steel. Sample design of full-scale building seismic force resisting systems will be presented with focus on how a practicing engineer may adapt current code provisions for the cast steel modular links.
January 26, 2023 @ 12:00 pm EST
Being a CISC Member or Associate Just Got Even Better!
Replay past CISC Steel Exchange Webinars and get access to exclusive videos, resources, design guides and more.