An optimized parametric design using STEEL!
The Dutch light rail station
"THE HAGUE"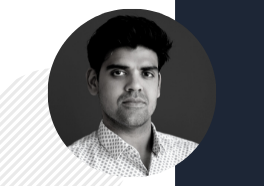 Anurag Bhattacharya
Architect & Project Coordinator
ZJA Zwarts Architects
Anurag Bhattacharya is an architect and project coordinator at ZJA, a Dutch architecture studio founded in 1990 and based in Amsterdam. He grew up in India and graduated from the NIT Trichy, where he studied architectural engineering and design. He received his Master of Architecture from Delft University of Technology with an honorable mention. He is a registered architect in the Netherlands and India, as well as a chartered member of the RIBA UK. Anurag has given guest lectures and talks at various academic and commercial events and he is a member of Advisory Committee at Delft University of Technology.
Anurag started at ZJA in 2014 as part of the design team for the renovation of the renowned Thialf ice-skating arena in Heerenveen (NL). So far, he has contributed to 70+ projects ranging from large-size complex infrastructure including stations and bridges, as well as sports and leisure related projects. He has gained extensive experience with projects of varying scales and a wide range of project phases, from design and programming up to developing construction details. Throughout, he has had a focus on designing creatively with the site's constraints while creating environmentally sustainable approaches.
Anurag also worked on the new Erasmusline station (HSE) in The Hague (NL), where he assisted in the development of the design and optimization of the roof geometry, which was completed in 2016. This project highlighted the value of parametric design workflows and cross-disciplinary collaborations to achieve the integration of engineering expertise, which led to file-to-factory manufacturing capabilities. He was part of the winning team for the competition of the Diamond Exchange, Capital C Amsterdam, which was completed in 2019. Anurag also played an active role in the research and design of the Shaded Dome concept, which has been awarded a European patent as a unique and novel architectural concept. This concept was further elaborated in the design and construction of Freedom Museum, Groesbeek (NL), which was completed in 2020.
In his current role, Anurag is responsible for coordinating project teams, overseeing the aesthetic and technical aspects of the design, carrying projects through from conception to realization. He has a particular interest in the implementation of emerging technologies related to design, computation, fabrication, and sustainability strategies. Partly for this reason, Anurag is actively engaged in research efforts and knowledge sharing within ZJA.
Webinar Description
Anurag Bhattacharya, Arch. from the renown firm ZJA Zwarts Architects located in Amsterdam presents "The Dutch light rail station-The Hague". This project won the 2019 European Steel Design Merit and Excellence Award for the most impressive parametric architecture.
The roof's design was developed and optimized using parametric and computational design methods, making it possible to use rectangular, single curved, cold-bent layered glass and allow a significant reduction in the quantity of materials used in the steel structure.
Do not miss this unique session!
Wednesday September 22, 2021 @ 1:00 PM – 2:00 PM EDT
Participants are eligible for 0.1 CEU / 1 PDH following verification of attendance.
If qualifying, registrants will be emailed a certificate within 7-10 business days.