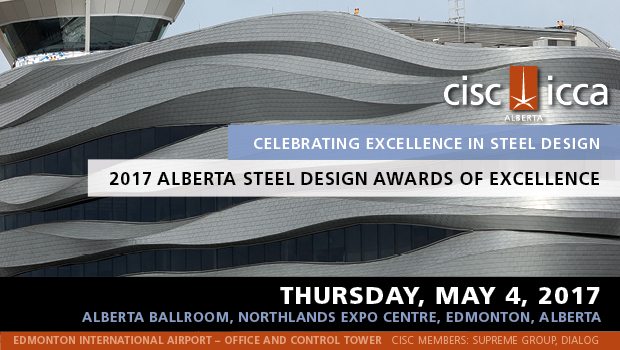 The 2017 Alberta Steel Design Awards of Excellence showcased exceptional steel design for projects in 6 categories at the awards gala May 4th in Edmonton, AB. An audience of 365 people viewed the short video vignettes prepared for each of the 12 finalist projects and celebrated with the winners in the 6 award categories. This event has grown to become the largest steel design awards program in Canada and has become known as the Academy Awards of steel design. The Alberta Steel Design Awards of Excellence seeks to recognize and reward excellence in steel design and promote the exceptional benefits of building with steel. Thank you to those who submitted their projects and to our judges for their work in reviewing the submissions, selecting the finalists and naming the winners. Congratulations to the winners for their recognition for excellence in steel design.
AWARD CATEGORIES
Architectural Award
Steel structures in which architectural considerations significantly influence the design, particularly those with exposed steelwork. (All building types and bridges.)
Engineering Award
Steel structures in which engineering considerations and the efficient use of steel in unique applications are the significant factor. (All building types and bridges.)
Sustainability Award
Steel structure in which steel has been used or re-used as part of a sustainable development project that aims to improve environmental impact of the structure by using established and innovative practices, standards and technologies.
Building Communities Award
Steel structures created as part of a community development project with a focus on serving community needs. This includes, but is not limited to, municipal government projects, not for profit companies, public art installations and other installations (all building types, bridges and structures). Projects that impact and enhance the community around them will be considered.
Steel Edge Award
An open category looking for tremendous innovation and ingenuity in the application of steel design, fabrication, detailing or finishing. For example:
– Steel is used in a nonconventional way,
– Steel application addresses a particular complexity
– Steel address a resource or application challenge
This may be innovation within an entire project or a single project element
Collaboration Award
An award for a project team who demonstrates "value added" to the project through collaborative project delivery approaches throughout the design and/or construction process. Factors for consideration will include:
– Early involvement of key participants
– Shared risk and reward based on project outcome
– Joint project control
– Jointly developed and validated targets
– Large team meetings for design and resolution communication and planning
– Innovative use of technology
Focus for the Collaboration award is on the successful delivery of the collaborative process. Final design quality will remain a consideration