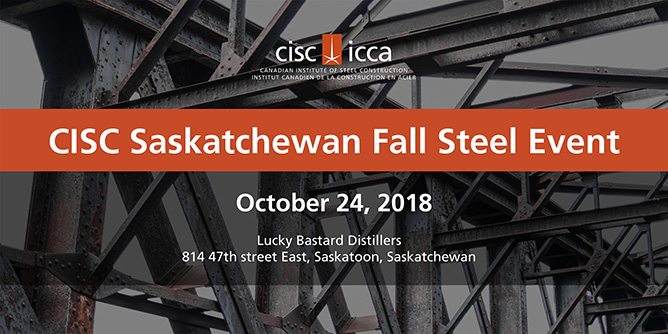 Don't miss this opportunity to learn how the steel industry is growing and excelling in Canada!

Join us on October 24, 2018 at Lucky Bastard Distillers in Saskatoon, SK!
Mark Lebel, alongside Leonardo Nunes, of Gerdau will be sharing their insight and answering your questions! Learn about how steel tariffs are affecting the Canadian supply chain, the wide range of products/services that Gerdau offers, maximizing weathering steel in design, as well as quality control in the steel industry!
This year's guest speaker, Ed Whalen, President & CEO of the CISC, will be leading the discussion on how the CISC is the premier organization in creating solutions for the challenges that the steel industry is currently facing.
Mark Lebel, Sales Manager | Gerdau
With over 10 years of experience in sales within the steel industry, Mark excels in his role at Gerdau as Sales Manager of Canada, Northeast & Midwest U.S. He attributes his success through building relationships with customers and practicing three simple rules: communicate proactively, be resourceful and deliver what you promise.
Ed Whalen, President & CEO | CISC
Ed has led the efforts of the Canadian Institute of Steel Construction (CISC) through his role as President & CEO since 2009. He continues to actively promote steel in construction, while making the needs of the steel industry his main priority.
Location: Lucky Bastard Distillers, 814 47th St. E, Saskatoon, SK
Breakfast: 7:30 AM
Presentations:
Mark will present at 8:00 AM
Ed will present at 9:00 AM
Registration Fee: $25