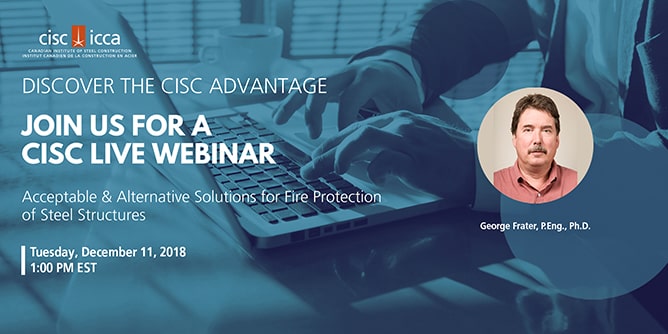 Discover the CISC Advantage. Join us for a CISC live webinar!
Acceptable & Alternative Solutions of Fire Protection of Steel Structures
The CISC is the Canadian steel industry's leading source for advanced steel education programs.
Discover fire protection and performance-based designs in steel construction while implementing the safety requirements of the National Building Code of Canada (NBC)! We have partnered with George Frater, P.Eng., Ph.D. of the Canadian Steel Construction Council (CSCC) to present a thorough overview of the fire safety requirements of the NBC in steel construction, alongside a variety of fire safe designs. This live online webinar will provide an opportunity for fire protection engineers to apply engineered solutions and use advanced calculation techniques, such as computer fire modeling, to identify acceptable and alternative solutions for fire protection of steel structures!
Don't miss your chance to learn from the best! Join us live on December 11, 2018 at 1 p.m. (EST) with George Frater, P.Eng., Ph.D.