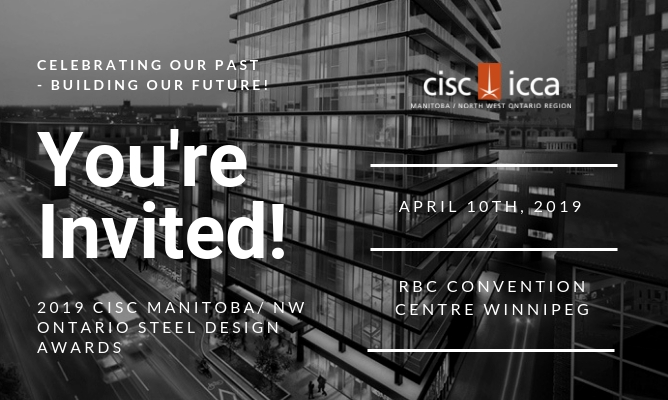 2019 CISC MANITOBA/ NW ONTARIO STEEL DESIGN AWARDS GALA
Celebrating Our Past – Building Our Future
Plan to Join Us – Get your tickets TODAY!
Connect and Celebrate with the people of Steel Construction
The RBC Convention Centre's beautiful York Ballroom in the recently completed new steel south building will be the location for this special evening of celebration featuring:
• Welcome Reception • Celebration Banquet • Awards Program
The second edition, 2019 CISC Manitoba/North West Ontario Region Steel Design Awards of Excellence is themed Celebrating Our Past – Building Our Future. Held biennially, the goal of this Awards event is to share and recognize steel design and innovation excellence – promote awareness of the advantages of steel in construction and create networking opportunities for CISC Members & Associates, partners and clients.
The 2019 award recipients are: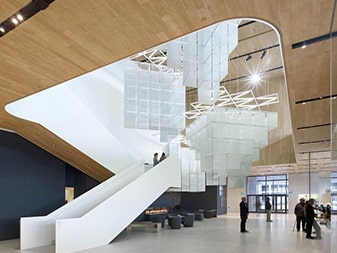 Remai, Saskatoon
Category: Design
| | |
| --- | --- |
| Recipient Team Members | Company |
| Recipient | Capitol Steel |
| Owner | City of Saskatoon |
| Architect | Architecture49 |
| Structural Engineer | Entuitive Corporation |
| General Contractor | EllisDon |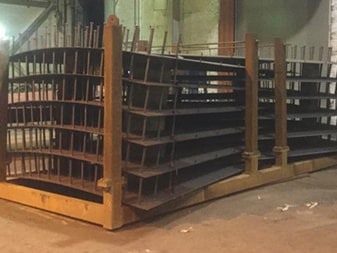 Terminal Hoppers, Vancouver

Category: Fabrication
| | |
| --- | --- |
| Recipient Team Members | Company |
| Recipient | Capitol Steel |
| Owner | G3 Terminal Vancouver Limited Partnership |
| Structural Engineer | Kiewit Engineering Group Inc. |
| General Contractor | Peter Kiewit Infrastructure Co. |
| Steel Detailer | Knight Steel Detailing Services |
| Steel Erector | Peter Kiewit Infrastructure Co. |
True North Square Skywalk, Winnipeg

Category: Construction
| | |
| --- | --- |
| Recipient Team Members | Company |
| Recipient | Abesco |
| Owner | TN Square Inc. |
| Architect | Perkins & Will |
| Structural Engineer | Entuitive |
| General Contractor | PCL Construction |
| Steel Detailer | Abesco |
| Steel Erector | ERA |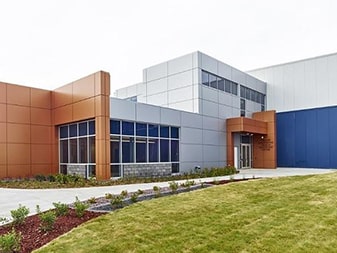 City of Calgary Compost Facility

Category: Pre-Fabrication
| | |
| --- | --- |
| Recipient Team Members | Company |
| Recipient | Behlen Industries |
| Owner | City of Calgary |
| Architect | Stantec |
| Structural Engineer | Stantec |
| General Contractor | Maple/Nason Chinook DBJV |
| Steel Erector | Tru-Steel Inc. |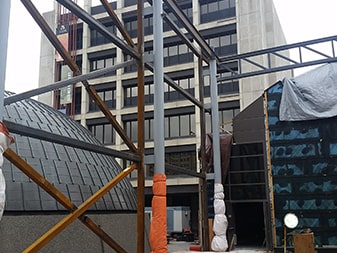 Alloway Hall, Winnipeg

Category: Engineering
| | |
| --- | --- |
| Recipient Team Members | Company |
| Recipient | Shopost |
| Owner | Manitoba Finance |
| Architect | Stantec |
| Structural Engineer | Stantec |
| General Contractor | Bockstael |
| Steel Detailer | Shopost |
| Steel Erector | Arcweld |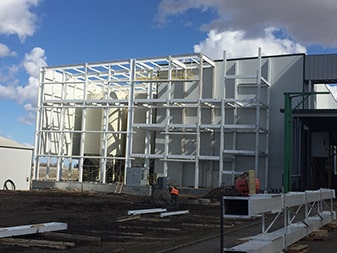 Grain Millers – WIP III Expansion, Yorkton
Category: Innovation
| | |
| --- | --- |
| Recipient Team Members | Company |
| Recipient | Sperling Industries |
| Owner | Grain Millers |
| Architect | Sperling/Grain Millers |
| Structural Engineer | Sperling Industries |
| General Contractor | Sperling Industries |
| Steel Detailer | Sperling Industries |
| Steel Erector | Sperling Industries |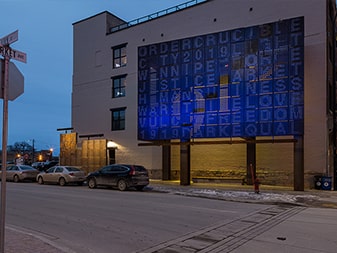 1919 Marquee Monument, Winnipeg

Category: Architecture
| | |
| --- | --- |
| Recipient Team Members | Company |
| Recipient | Supreme Steel |
| Owner | JC Paving (commissioned by the City of Winnipeg) |
| Architect | Monteyne Architecture Works |
| Structural Engineer | Wolfrom Engineering |
| General Contractor | Metal Tech |
| Steel Detailer | Supreme Steel |
| Steel Erector | Supreme Steel |