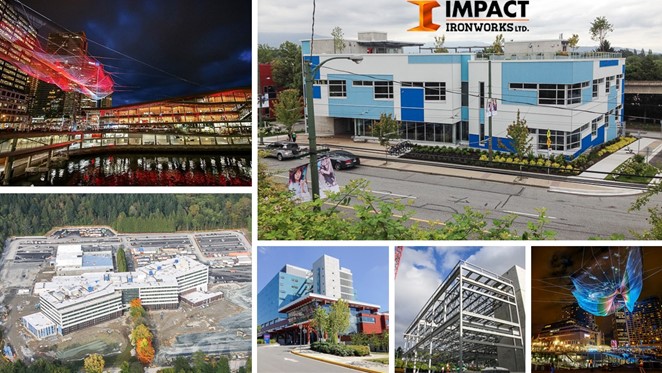 IMPACT IRONWORKS was founded in 2001 and has completed many projects spanning BC, Alberta, NWT's, and the Yukon. Their shop is in the Port Kells industrial area in the Lower Mainland of B.C.
Their shop is well equipped to handle projects of any size, from the smallest of miscellaneous jobs to larger scaled ones specializing in hospitals and high-rises. They employ experienced employees that strive for quality and efficiency.
Their services include:
STEEL FABRICATION: Structural Steel, Miscellaneous Metals, Ornamental Steel
ESTIMATING: Their estimators work closely with clients to value engineer projects to maximize cost savings.
DRAFTING: Impact Ironworks employs a full staff onsite to create quick and efficient drawings used for fabrication and erection. They use the latest 3D modeling software in SDS2 to create precise models that can be seamlessly used in a BIM workflow.
ERECTION: Their crew consists of 30 plus qualified erectors and welders with several mobile welding units.

About Elance Steel
With over 40 years of experience, Elance Steel continually strives to be one of Saskatchewan's industry leaders in structural/miscellaneous steel supply by providing unprecedented design, fabrication, and installation services to local and interprovincial clients and projects. With its dedicated team of professionals, Elance continues to challenge the industry standard with its client relationships, and quality of workmanship. Outfitted with a 30,000 sq-ft facility, Elance takes pride in its long history of successfully executing a variety of projects, ranging from small private residential scopes to large commercial/industrial structures. Elance Steel commits to continually and consistently provide exceptional service regardless of project scope and size.
Design
Elance Steel prides itself as one of Saskatchewan's experts in providing innovate structural steel supply services.  Its estimators/project managers, supported by an in-house detailing department, collaborate with engineers, architects, and owners to optimize steel design solutions throughout all phases of the project life cycle.  Such design optimizations can often facilitate field installation strategies and ultimately lead to project cost savings at the client level. Whether its conceptual drafts or IFC drawings, Elance Steel will provide great insight and expertise for all your steel solutions.
Fabrication
Elance Steel's shop team comprises of a group of dedicated individuals, all of whom have been with the company for 10+ years.  A combination of expertise and partial automation enables Elance Steel to take on and supply large quantities of structural and miscellaneous steel with ease.  The shop works diligently alongside installation specialists to ensure all assemblies are fabricated with erection staging/sequencing in mind. In addition to standard structural/miscellaneous steel, Elance Steel also has the ability to execute unique projects, such as decorative or architecturally exposed structural members.
Installation
Elance Steel's field installation team works closely with its shop to ensure assemblies are fitted, documented, and staged in order to facilitate execution strategies for each project. Its versatile erecting crews are able to perform in varying conditions and within project constraints to ensure projects are completed on budget and on time.  Elance Steel's field team is supported by administrative and project management staff who monitor project controls, coordinate with contactors and relay progress to clients throughout each phase of the project.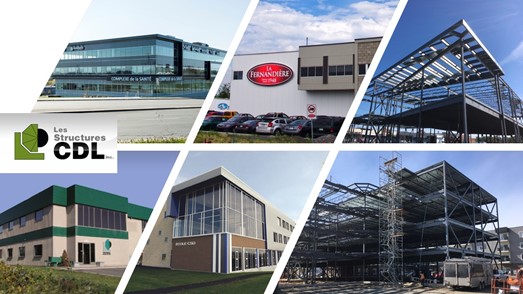 Established in 1983 by steel industry professionals, LES STRUCTURES CDL INC has built a solid reputation over the years as a steel frame manufacturer.
Located in Lévis, (in St-Romuald sector), on the south shore of the river across from Quebec City, close to major highways, bridges, port and railway facilities, Structures CDL covers a vast territory on both the Canadian and U.S. sides of the river.
With an experienced team, a factory measuring more than 23,000 sq. ft., and state-of-the-art equipment, Structures CDL is able to carry out all types of projects: industrial, institutional, commercial, or multi-residential, from 2 to 2000 tons. Les Structures CDL will make every project a success. At Les Structures CDL, every project is unique and requires special attention.
The company's certification in accordance with rigorous quality standards is a guarantee which is closely monitored throughout the various stages of project performance. Les Structures CDL offers estimating, engineering, shop drawing, manufacturing, delivery and installation services meeting the highest standards of quality, safety and adherence to deadlines.
The company's corporate mission, which aims at satisfying its customers by providing high quality products and services makes CDL… Your Steel Partner!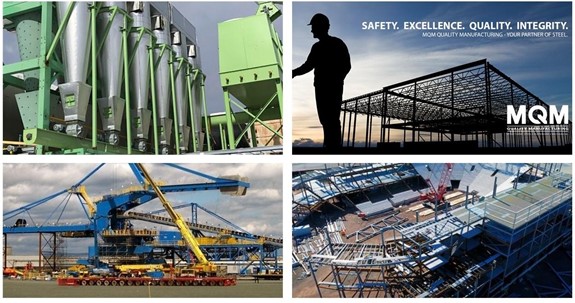 MQM Quality Manufacturing Ltd. was established in 1993 to meet the steel-related needs of the construction industry, the company's senior officers were already renowned for their expertise in the metal fabrication sector. In 2001, MQM decided to expand its facilities in order to increase its production efficiency and therefore meet market demand more effectively. A 9,600-square-foot paint shop was set up for complex two- and three-layer applications.
MQM is one of the very few companies with such facilities in Eastern Canada. Since then, MQM has continued to invest in its operations by expanding its main workshop and adding a second one for metal work machining. MQM has made significant investment in machinery for the handling and fabrication of large-sized components.
MQM is involved in major construction projects across North America. Bridge Structures Fabrication & Erection
Plant Maintenance Tanks & Pressure Vessels And Refurbishing Services Custom Steel Fabrication & Assembly
Modular Steel Fabrication & Assembly Steel Erection
MQM Quality Manufacturing is a leader in Canada's steel structure fabrication and installation sector. MQM's competitive prices, high-quality products, adherence to deadlines and customer relations make it a sought-after steel manufacturer.