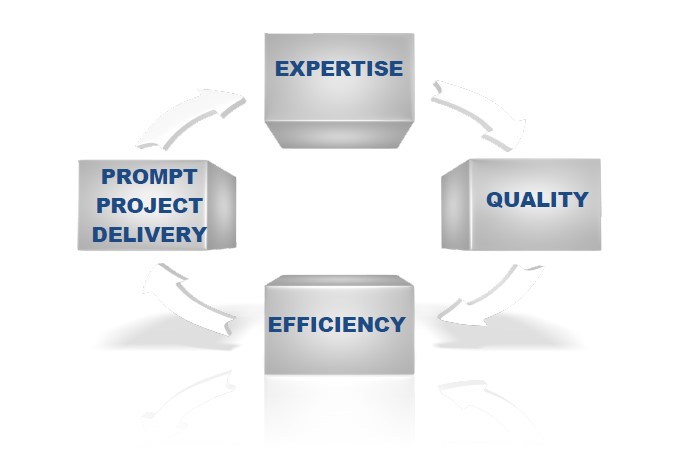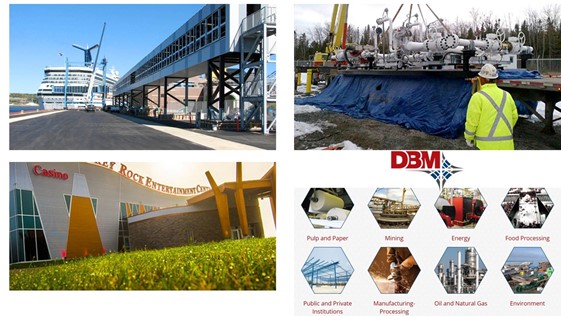 Founded in 1996 and having its head office in Northern New Brunswick, Canada, Design Built Mechanical Inc. (DBM) is a mechanical contracting company, working in the design, installation, and management of institutional, commercials, industrial and biotechnological projects. DBM specializes in environmental performance as well as the design and manufacturing of custom equipment. With a vast experience in environmental applications, the company is involved in the responsible management of household waste, wastewater treatment and septic services.
Versatile, flexible and lead by a dynamic and multidisciplinary team, DBM operates internationally with the vision and expertise to develop infrastructure and equipment to accelerate the improvement of the quality of life in emerging countries. Committed to research and development with well-established partners, the company is currently designing and developing a transportable system allowing the transformation of solid waste into usable fuel (biofuel) and carbon.
DBM does not claim to have a solution to all the challenges facing emerging economies, but it will bring its know-how, knowledge, way of working, dynamism and open-mindedness to contribute to the development of emerging countries while respecting the environment.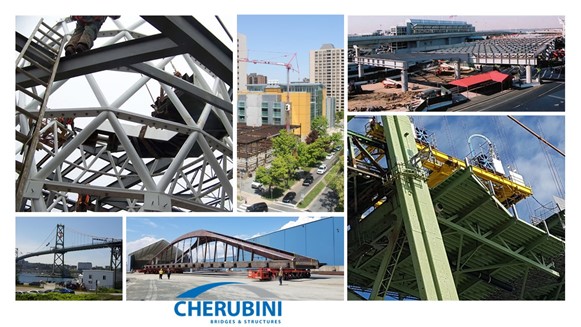 Cherubini Metal Works Ltd. is a leading Atlantic Canadian steel fabricator, designing, producing, and delivering bridges and complex structures around the world. Cherubini's story began in 1967 as a small company building steel staircase railings in Dartmouth, Nova Scotia. With the knowledge of the steel industry and strong business intelligence of its owners, Cherubini has grown into a large, successful group of companies with an impressive history and an exciting future. They are recognized as one of Canada's Best Managed Companies by Deloitte. With more than 50 years of experience and passion, they work in state-of-the-art facilities with sustainable long-term development, employing talented workers – innovators who strive to accomplish exemplary results through their creativity and workmanship.
They have built more than 150 bridges across the globe, creating infrastructures for towns and cities, fabricated and erected many buildings, developed innovative structures for green and marine technology, creating opportunities for renewable energy.
With services in: Specialized Coatings, Metalizing, Erection, Galvanizing and Transportation, they serve the following markets: Transportation / Infrastructure, Mining, Oil, gas, and chemical, Building, Industrial & Manufacturing, Renewable Energy  Products & Services: Full range of bridge structures including: Truss, Box Girder, Tub Girder, 3 Plate Girder, Arch and Pedestrian, Orthotropic Deck Bridges, Highway Bridges, Railway Bridges, Transmission Towers, Related bridge and building products,    Structural steel (Beam & Column), Miscellaneous Steel: Stairs, Rails, Steps and Lattice Frames, Welded wide-flange (WWF) shapes, Industrial plate work, Offshore Structures: well heads and form work.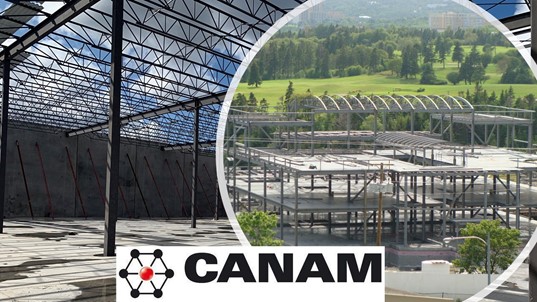 Canam Group Inc. was founded on August 15, 1960. Our mission ever since has been the pursuit of a better customer experience. Integrity, exceptional service and relations with our personnel and business partners, first-quality products, a safe and ethical work environment, as well as high-efficiency production are Canam's non-negotiable core values. They specialize in designing and fabricating metal components for the North American construction industry, active in the sectors of buildings and infrastructure. They operate eight plants in Canada and the United States, as well as engineering offices in Canada, Romania and India and has over 2,675 employees.
Buildings: For each stage of the construction of a building's envelope for all types of projects, whether commercial, industrial, institutional or multi-residential, with a the most comprehensive range of products and services in the industry, from building design, engineering support and fabrication to jobsite installation and supervision.
Steel: Fabricates and sells structural steel products to stakeholders in the construction industry via its Canam Structures department.
Bridges: The highway and railway bridge solutions partner. From design and fabrication with state-of-the-art technology, painting and metallizing to the installation and management of complex projects, they have the expertise needed to deliver various categories of bridges that satisfy all applicable standards and requirements within an optimal timeframe.
Construction: They offer erection services for structural steel components for commercial, industrial and public infrastructure projects. Drawing on the expertise of skilled partners and using cutting-edge equipment, the Corporation offers turnkey services ranging from manufacturing to erection, including construction site supervision.
https://www.canamstructures.com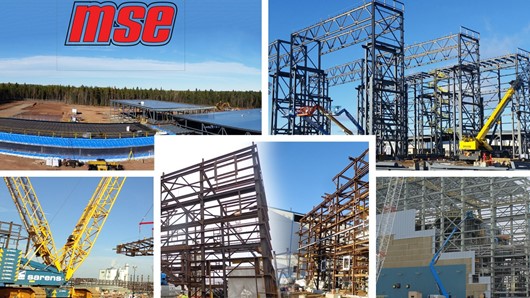 MSE Inc. and their Project Management team has a proven record of meeting and exceeding the most challenging schedules, while delivering professionalism and quality beyond any other steel service provider. Their talented team of Project Managers, Engineers and Site Coordinators pride themselves in delivering structural and miscellaneous steel, on time and on budget.
Their Fabrication capabilities include:
• Standard commercial structural steel
• Heavy industrial steel
• Heavy plate work (box beams) sub arc welding
• Large span trusses (box, tapered and curved parabolic)
• Conveyor frames
• Components for drilling equipment
• Custom miscellaneous projects (we don't back down from unique projects)
Their design-build capabilities are fundamental to MSE as Steel Solution Providers and can be practiced among all ten Canadian provinces and three territories. Their designs will include the most economical combinations of the following products, including consideration for price variance pending on geographical locations. They can also participate in design partnership teams to work with other site contractors. These partnerships can aid in the production of a custom-made product with benefits including a quality product, cost-effectiveness, and fast delivery.
Their experience, knowledge and professionalism all make MSE a leading choice as a Steel Solution Provider.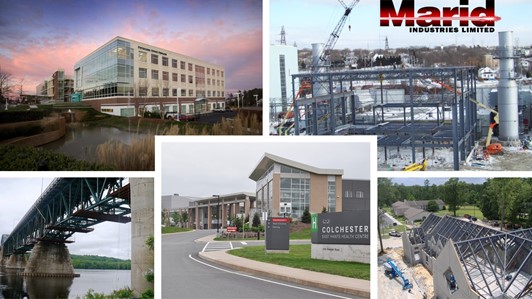 Marid Industries Ltd. is a private manufacturing business based in the Maritimes. They handle 6,000 tons of structural steel per year and steel jobs up to 1,500 tons, as a full-service contractor, fabricator, and a construction company with Engineering capabilities, price competitive, aiming for zero project deficiencies, incorporating the principles of safety, quality work, and customer satisfaction,  with skills to handle complete structural steel requirements-from conceptual drawings to detailed final drawings, costing to buying and organizing materials; manufacturing and shipping, planning and executing the construction work, installing machinery and all accounting, project cost control, and monthly financial reporting.
FABRICATION: Their 34, 000 square foot fabrication facility, in Windsor, Nova Scotia, w/ state of the art technology, safely and efficient production.
CONSTRUCTION:  They are industry leaders in structural steel and miscellaneous metals erection, multi storey structural steel buildings to bridge rehabilitations and everything in between, with a fleet of mobile erection equipment and maintenance staff.
DESIGN BUILD: They offer savings in schedule and costs versus traditional project delivery methods of "design-tender-bid-build".
ENGINEERING: Their Professional Engineers and detailers, experienced in structural steel design, connection analysis, welding, and fabrication.
PROJECT MANAGEMENT: Their team has extensive expertise in small and complex projects, industry leaders combine strategy and training with a wealth of experience.
SALES & ESTIMATING: Their sales and estimating continuously monitor and analyze the market for competitiveness and new opportunities from "pre-designed" tenders to "design-build" projects, utilizing new technology, accurate historical data and valuable feedback from subject matter experts.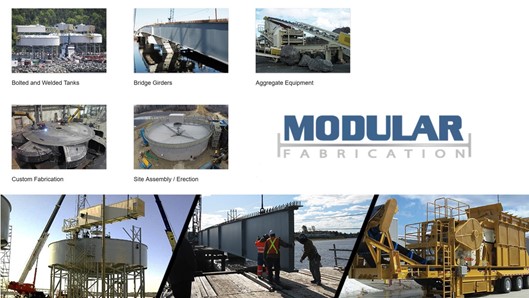 Modular Fabrication Inc., located in Miramichi, New Brunswick, has the facilities and experienced staff required to complete large steel fabrication projects with precision and quality in a cost effective and safe manner. Their experienced staff has completed many projects for the mining, transportation infrastructure, petroleum, and other industries. Modular specializes in Tanks, Aggregate Equipment, Bridge Girders c/w related components and Custom Fabrication.
Modular' s three fabrication facilities and modern paint facility are complete with modern well-maintained equipment that can accommodate any size project, large or small. Their nearby paved wharf location allows us to fabricate, assemble and ship extremely large size turnkey projects by water to minimize site work.
Modular Fabrications shop and wharf facilities Modular has mobile cranes, gantry cranes, forklifts, loaders, and other handling equipment at its disposal to move and ship large fabricated pieces. Their location is well situated to accommodate all shipping methods, (truck, rail, or sea).
Specializing in large steel fabrication projects, Modular Fabrication takes great pride in the quality of its products and is dedicated ensuring all projects are completed safely, on time and on budget.
MQM Quality Manufacturing Ltd. was established in 1993 to meet the steel-related needs of the construction industry, the company's senior officers were already renowned for their expertise in the metal fabrication sector. In 2001, MQM decided to expand its facilities in order to increase its production efficiency and therefore meet market demand more effectively. A 9,600-square-foot paint shop was set up for complex two- and three-layer applications.
MQM is one of the very few companies with such facilities in Eastern Canada. Since then, MQM has continued to invest in its operations by expanding its main workshop and adding a second one for metal work machining. MQM has made significant investment in machinery for the handling and fabrication of large-sized components.
MQM is involved in major construction projects across North America.
Bridge Structures Fabrication & Erection
Plant Maintenance Tanks & Pressure Vessels And Refurbishing Services
Custom Steel Fabrication & Assembly
Modular Steel Fabrication & Assembly
MQM Quality Manufacturing is a leader in Canada's steel structure fabrication and installation sector. MQM's competitive prices, high-quality products, adherence to deadlines and customer relations make it a sought-after steel manufacturer.
OCEAN STEEL of OSCO Construction Group, fabricates and erects structural steel for all industrial, commercial educational, institutional, and residential construction sectors. Projects up to 18,000 tons in size have been successfully completed.
Highway and railway bridges are fabricated in their plant and erected on land or over water. Plate girder, box girder, and truss bridges for single or multiple spans have been completed to rigid standards used by various highway and railway administrations.
Ocean Steel provides any or all of the following services:
Budget pricing from preliminary plans & specifications.
Value engineering & constructability reviews of proposed designs.
Design/Build proposals for all types of low-rise structures.
Professional project management of the steel scope of work.
Procurement & co-ordination of outside suppliers related to the steel scope of work, such as joists & metal deck.
In-house computerized drafting services for production of shop drawings.
Specialized multi-coat paint systems applied in an enclosed, climate-controlled environment.
In-house erection or subcontracted erection services, whichever is the most advantageous for our clients.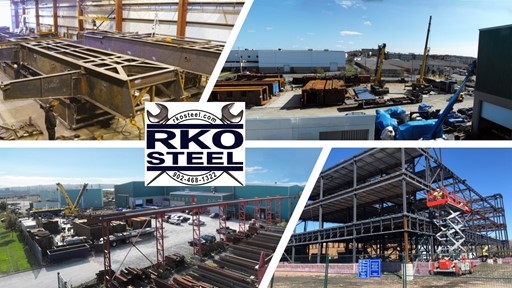 RKO Steel Limited has been serving Canadian, US and other international customers with quality manufactured steel products, quality coatings, fast / safe / reliable steel erection, and general construction for over 30 years.
Their record speaks for itself – They were one of the first in our industry to become ISO 9002 registered and have won the North American Steel Fabricator of the Year Award.
Their team is dedicated, fully trained and certified to the highest level of safety and quality standards; they employ the best and brightest of all disciplines in the industry, including: Engineers, designers, planners, project managers, skilled labourers and operators.
They perform work onshore/offshore energy work, structural steel, or delicate refurbishments. and they perform yearly evaluations and upgrades in all aspects of our operations. This guarantees optimal efficiency with inventory control, material procurement, project scheduling and costs, as they are committed to quality management.
At RKO Steel Limited, they make the commitment to meet and exceed customers needs.  Whether its large scale building structural components, API compliant oil drilling equipment, or delicate stainless steel, they make high end, quality products.
RKO has the expertise and capability to engage in Design-Assist or Design-Build projects.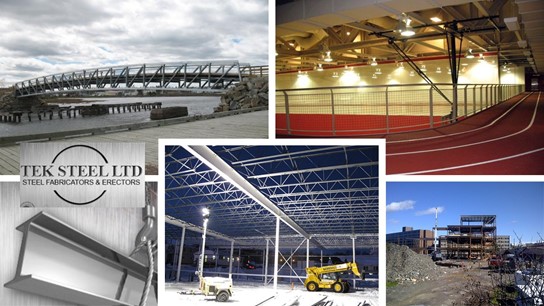 Tek Steel Ltd., Steel Fabricators & Erectors, fabricator members at the CISC.
Tek Steel Ltd. began in the spring of 2003 with the goal of becoming a competitive company in the steel fabrication and erection trade.  They started out with a shop size of 5000 square ft. fabrication shop and throughout the following 5 years expanded to a 20,000 square ft fabrication shop.
Tek Steel Ltd. Is a a versatile company with capabilities to build the simplest handrail to a complex structural building. Here are some of their Capabilities / Equipment:
-9-ton boom truck
-28-ton boom truck
-Fully equipped 20,000 ft2 fabrication shop
-Multiple portable welding trucks
-CWB certified welding operations W47.1 Div.2
-Drafting division capable of providing clients with drawing and design with the use of AutoCAD, Strucad, Tekla, Advanced Cad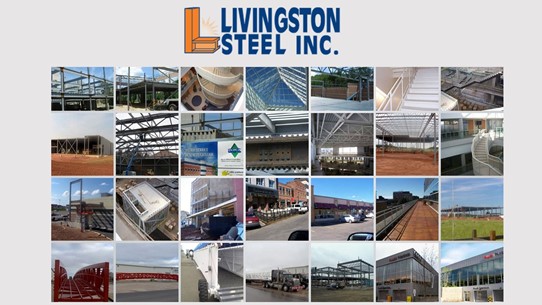 Livingston Steel Inc. specializes in the manufacturing and erection of industry compliant, structural steel products. With two locations, in Charlottetown and Summerside, their steel fabrication, structural steel erection and welding operations meet the needs of a diverse range of industries throughout the Maritimes and New England, USA. They provide many value-added services to the local structural and miscellaneous steel industry such as blast cleaning, cambering, shearing and paint priming.
The emphasis of their business is on the fabrication and erection of structural steel for commercial, industrial, and municipal clients. Their team is fully certified to undertake this work in both countries and our 15,000 sq. ft. fabrication facility is well-equipped to provide the detailing accuracy, speed and precision today's steel construction industry demands. They also provide an in-house and mobile welding solutions for 24-hour emergency welding services.
They also specialize in custom fabricating and erecting various metal products like stairs and handrails.
The company takes pride in delivering top-quality products, which are on display across the Maritimes and throughout New England in applications such as big-box stores, office buildings, institutions, retail shops and more.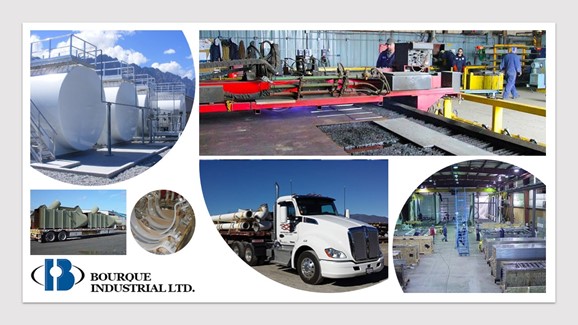 For close to 70 years, Bourque Industrial Ltd. specializes in precision metal custom fabrication services with experience in everything from carbon steel, stainless steel, aluminum, and many other alloys.
They have invested in a 23,000 facility in Saint John, New Brunswick with state-of-the-at equipment. Dedication to extreme precision and quality is a priority; we comply with a range of industry standards that are important to each specific client. They also offer secondary services, incl. drafting service capabilities and finishing services.
Their machine capacities include:
400 Ton Press Brake up to 14′ (bed length)
Shear Capacities up to 10″ X 1/2″
CNC High Def Plasma up to 2″ thick
Rolling up to 10″ X 3/4″
Angle Rolling up to 3″ X 3″ X 3/8″
Saw Cutting up to 30″ width
They serve the following industries: Small companies needing a custom manufacturing supplier, Large Companies needing a custom manufacturing partner, Oil & Gas, Offshore, Power Generation, Food Processing, Petroleum Refining, Marine, Mining, Transportation / Infrastructure, Environment / Engineering & Controls, Structural Steel, Process Equipment.
http://www.bourqueindustrial.com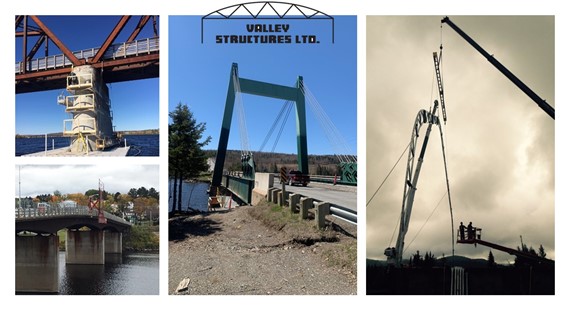 Valley Structures Ltd. is a family owned business, is a Heavy Civil General Contractor with experience across Canada in construction of bridges, culverts, wharves, and buildings. They are well versed in the rehabilitation of concrete, steel, and timber structures; Professional Engineers, Civil Engineering Technologists and qualified tradesman are able to use their experience for simple structures to multi-million-dollar ventures. Their qualified team of Professional Engineers, Civil Engineering Technologists and qualified tradesman are able to use their experience for simple structures to multi-million-dollar ventures.
They specialize in:
Bridge Construction: Valley Structures Ltd. is a Heavy Civil General Contractor with over 15 years of bridge construction and rehabilitation across Canada.
Bridge Rehabilitation: In concrete, steel, and timber rehabilitation projects across Canada.
Drainage Infrastructure: Extensive experience with the installation of drainage infrastructure ranging from corrugated steel pipes, multi plates, smooth wall steel pipes, concrete and corrugated steel manholes, all ranging in various sizes.
General Contracting: Professional Engineers, Civil Engineering Technologists, and qualified Trades bring their experience and know-how.
http://www.valleystructuresltd.com
Hellen Christodoulou, PH.D. Ing., B.C.L., LL., M.B.A., a CISC-ICCA Staff writer