Free Technical Webinars at Your Finger Tips
Presented by experts from the CISC, these webinars will highlight the tools and resources needed to expand as a practicing engineer.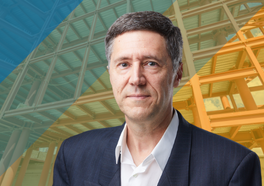 Charles Albert,
M.Sc.E., P.Eng.
Manager of Technical Publications and Services
CISC
Structural Steel Grades
This Steelcast webinar surveys the main CSA and ASTM structural steel grades used in building and bridge applications, notably those listed in CSA S16:19 and S6:19. The presentation examines grades for hot-rolled shapes, HSS, plates, bolts and anchor rods. Other topics include substitute grades, unidentified steels, steels produced overseas and historical steel grades.
Structural Steel Grades also discusses differences between grades, selection criteria, high-strength and notch-tough steels, availability and the CISC Handbook. Cold-formed and welding products are not covered.
Wed, Nov 24, 2021 @ 1:00 PM – 2:00 PM EDT
Being a CISC Member or Associate Just Got Even Better!
Replay past CISC Steelcast Webinars and get access to exclusive videos, resources, design guides and more.