Complimentary Technical Webinars at Your Finger Tips
Presented by experts from the CISC, these webinars will highlight the tools and resources needed to expand as a practicing engineer.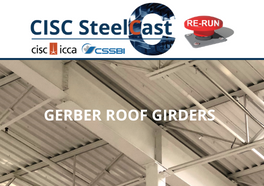 Gerber Roof Girders
SteelCast ReRun Series
August 24, 2022 @ 1:00 pm EST
Webinar – 0.1 CEU
Duration: 1h 15 m
This webinar is a Re-Run and it will cover the design of roof girders in cantilever-suspended-span construction, the dominant form of Gerber girder application.
It is premised on Gerber Roof Girders – Design Module 3 published by the CISC in 2019.
This module is intended to be used in conjunction with the National Building Code of Canada (2015) and CSA Standard S16-14, Design of Steel Structures.
This webinar does not include handouts.
Being a CISC Member or Associate Just Got Even Better!
Replay past CISC Steelcast Webinars and get access to exclusive videos, resources, design guides and more.