Thrill seekers anxiously awaited the opening of Canada's Wonderland Theme Park this year, as the 2019 season brought with it the public opening of the world's longest, tallest and fastest dive coaster.

The Yukon Striker Dive Coaster is Wonderland's newest attraction, taking park goers on an unforgettable ride as they plunge down 245 feet of track at 80 mph into an underwater tunnel, then soar up through four inversions, including a 360-degree loop – a record-breaking feature for a dive coaster.  Ironworkers pieced together 107 various elements to create a 3,625' track that alone weighed up to 1,334 tons.
The opening of the ride was an exciting event for the public, but the assembly and erection of this high profile attraction brought a thrill to the Ironworkers and constructors behind the scenes of the new coaster.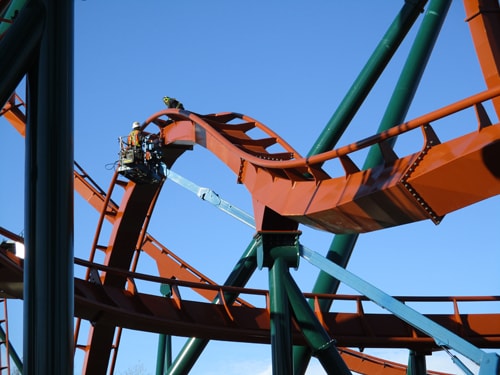 Being awarded this job was a huge victory for E.S. Fox Limited (a CISC Erector Member). The company was the only unionized bidder pre-qualified for this coveted contract, competing against many non-union coaster builders in the U.S. and Quebec. Even after erection began on site, E.S. Fox had to fight to keep this job in the hands of unionized Ironworkers. Claims were made by the Millwrights Union that this job was 100% Millwright work because the roller coaster was a conveyor belt, and they demanded a markup meeting be held to discuss the matter. After representatives from Local 721, E.S. Fox and the Millwrights' Union met, the entire project remained as Ironworker scope.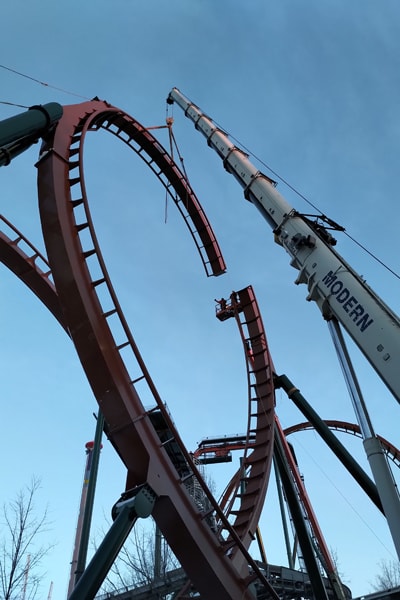 The project was approximately 28,000 man-hours and involved several complex lifts in restricted areas while enduring intense winter weather conditions. Some operations required 4-5 cranes to execute. In spite of the various challenges, this was a dream job to many.
"The Ironworkers loved working on this project and took a lot of pride in building it in the harsh Canadian winter." Says Steve Matthews, Area Manager of the Structural Steel and Bridge Division of E.S. Fox Limited, "Hats off to the crew for completing this job safely and on time despite a lot of inclement weather."
The Yukon Striker marks the third project completed by E.S. Fox Limited at Canada's Wonderland. It was a complex job that changed the skyline of Canada's premier theme park, and E.S. Fox Limited and Local 721 Ironworkers are proud to have been a part of it.