Single Storey Building Design Course
Course Instructor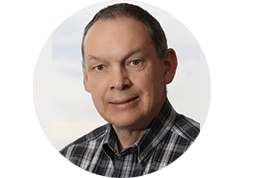 Mark Lasby, B.Sc., P.Eng.
Mark Lasby has over 35 years of experience in the planning, design, construction review and contract supervision of a variety of industrial, commercial, recreational and institutional building projects.
Mark graduated from the University of Alberta in 1977 with a B.Sc. Honors in Civil Engineering. He has worked for a number of consulting engineering firms and engineering, procurement and construction (EPC) firms in Alberta and British Columbia.  Throughout his career Mark has developed computer programs to simplify work processes and carry out repetitive tasks and long calculations which could be error prone. Mark has developed software using Microsoft Excel and Access VBA, SQL, Visual Basic, Java, Android and Javascript.
Course Description
Using a combination of technical resources and assessments, you'll learn the practical and economical solutions for framing a single storey warehouse building. This self-paced, online course dissects the theory and rationale behind code provisions, as well as the application of specific code formulae and requirements. Upon completion of this course, you will be knowledgeable in gravity loads, selection of deck and joist systems, fire resistance rating issues, design of Gerber girders and more!
This course is made up of four modules and contains eight hours of video instruction, technical resources, as well as a quiz. Once the course is completed, and with a score of 70% or higher on the final quiz, a Certificate of Completion is issued to the learner.
Duration 8 hours (4 modules) | Fee $475.00
|

0.8

CEUs
Registration in this course includes access to the recorded sessions for one month.
Each student will be able to download a PDF file containing the course slides which the student will be able to print.
Each student will be able to download  the Single Storey Building Design Aid as secure PDC files which the student will be able to print. Please note that this eBook publication can only be viewed on a Windows computer and requires online access. It cannot be viewed on the Mac, iOS or Android systems. 
Please email courses@cisc-icca.ca to arrange for a license file to open the secure PDC files to be sent to you. Please allow 2 working days for the license file to be sent to you.
Call for inquiries for
on-site visits/training
"This was a very insightful experience. The principles are powerful ways to understand influence. By applying these principles to our different situations, the results can be very impactful."
"The webinar exceeded my expectations! I not only learned the principles but how to apply them to my business to make an immediate impact. I would enthusiastically recommend this webinar to everyone!"
"Great layout of the course, very informative and learning experience for engineers of various abilities and levels."
"Lots of helpful tips and insight into different aspects & design considerations of steel construction. Very informative!
"Really interesting and encouraging course!"
"This course was a good one and it was according with my expectations"
"Thank you for making these online tutorials available"
"Great course. Thank you CISC for putting together this course. Please continue developing more courses for our industry."