Architecturally Exposed Structural Steel (AESS) Series Course Bundle
Course Instructor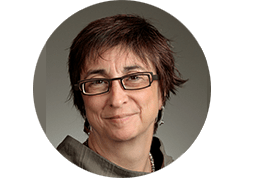 Terri Meyer Boake, BES, B.Arch, M.Arch, LEED AP
Terri Meyer Boake holds a professional degree in Architecture from the University of Waterloo and a post professional degree in Architecture from the University of Toronto. She is currently an Associate Professor and Associate Director of Architecture at the University of Waterloo, as well as the President of the Building Technology Educators' Society. Additionally, she is a LEED Accredited Professional in sustainable building.
Terri continues to promote the teaching of steel construction in schools of architecture across Canada. She has published several books, including "CISC Guide for Specifying Architecturally Exposed Structural Steel."
Course Description
Architectural applications of steel structures have truly stretched all aspects of the industry during the last 20 years with the use of Architecturally Exposed Structural Steel (AESS). This self-paced, online course bundle not only explores how AESS has changed over the years but uncovers the endless possibilities of designing it. Learn about all the CISC resources, applications, innovations, detailing and connections, as well as newly developed diagrids.
This course bundle is made up of five parts. It contains video instruction, technical resources, as well as quizzes. Once each course is completed, and with a score of 70% or higher on each final quiz, a Certificate of Completion is issued to the learner.
Duration 7.5 hours | Fee $800.00
$600.00 (Save 25%)

|

0.75

CEUs
The webinar will be highly visual and include many examples from recent projects in Canada and around the world.
Registration in this course includes access to the recorded sessions for one month.
Each student will be able to download a PDF file containing the course slides which the student will be able to print.
This course includes a complimentary copy of "CISC Guide for Specifying Architecturally Exposed Structural Steel, 2nd Edition" which will be couriered to the student. Please email your courier address to courses@cisc-icca.ca after you complete the registration.
Call for inquiries for
on-site visits/training
"This was a very insightful experience. The principles are powerful ways to understand influence. By applying these principles to our different situations, the results can be very impactful."
"The webinar exceeded my expectations! I not only learned the principles but how to apply them to my business to make an immediate impact. I would enthusiastically recommend this webinar to everyone!"
"Great layout of the course, very informative and learning experience for engineers of various abilities and levels."
"Lots of helpful tips and insight into different aspects & design considerations of steel construction. Very informative!
"Really interesting and encouraging course!"
"This course was a good one and it was according with my expectations"
"Thank you for making these online tutorials available"
"Great course. Thank you CISC for putting together this course. Please continue developing more courses for our industry."