The Canadian Institute of Steel Construction (CISC), its members and associates are always at the forefront in providing Canada's most innovative educational programs and unique mentorship to support the future generations of our industry.
Efforts are always geared towards means to expose, entice, and fulfill their interest in designing and building with steel.
Recently a noteworthy effort by a group of CISC Atlantic members and associates led to the fabrication of a teaching aid for Dalhousie Engineering students. Their commitment is commendable, for their goal is to provide a structure that encourages a practical approach to educate students about steel construction.



We extend our congratulations to the team that put this steel structure together!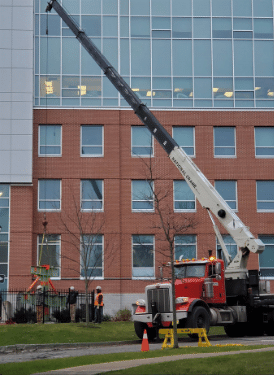 CISC Atlantic Members: Financial support for foundation, paving & fencing
Russell Metals: donated material
Marid Industries Ltd.: donated material, managed the project, designed, and detailed the structure, and performed its final assembly and erection
RKO Steel Limited: provided cutting of the various plates and angles, fabricated the structure, and performed the trial fit-up
Cherubini Metal Works Limited: donated material via Cherubini Metal Works, and provided painting through their member company, Quality Blasting & Coating
Hellen Christodoulou, PH.D. Ing., B.C.L., LL., M.B.A., a CISC-ICCA Staff writer