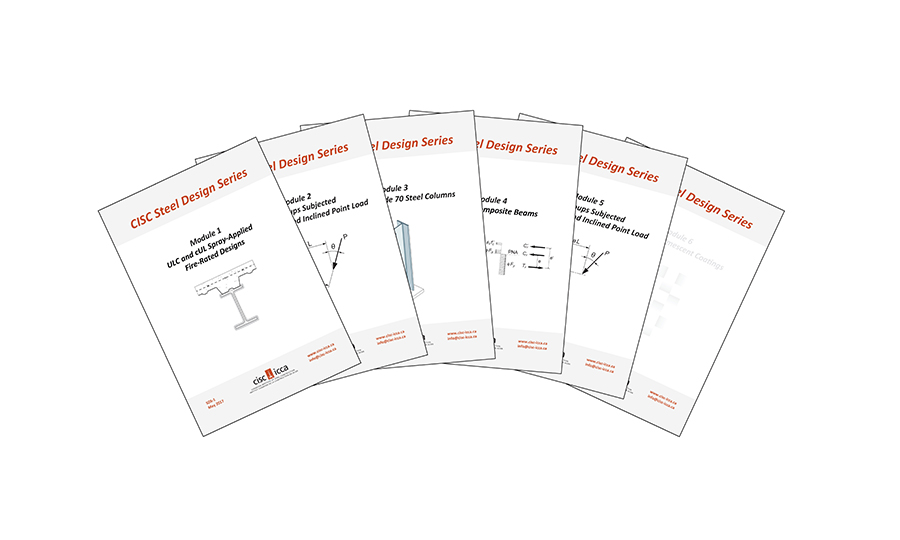 As part of a continuing effort to provide current and practical information for engineers, architects, designers, educators, fabricators and others interested in the use of steel in construction, the CISC recently launched a new series of concise steel design modules. Each module of the Steel Design Series (SDS) focuses on a steel design topic. The SDS covers materials that are in popular demand or serve to promote the use of steel structures. The Solutions Centre aims to develop five modules per year.
SDS Module 1 "ULC and cUL Spray-Applied Fire Rated Steel Designs" published in May 2017 is currently available as a free download from the new CISC website: https://cisc-icca.ca/cisc-steel-design-series/. It provides a summary of fire-rated designs consisting of steel members protected with spray-applied fire resistive material (SFRM). These rated designs are generally valid for use in commercial, institutional, light industrial and residential buildings in Canada, and are free from 'load restriction'. They include selected designs listed in the Underwriter Laboratories of Canada (ULC) Directory and those listed in the Underwriter Laboratories Inc. (UL) Directory as cUL designs. SDS Module 1 focuses on practical and economical SFRM protected designs for columns, floor and roof assemblies.
Designs that feature intumescent coatings are also available and the topic will be covered in another Module in the CISC Steel Design Series. Other Modules that will soon be published and made available on CISC website include:
Design of bolt groups subjected to eccentric and inclined loads
Design of high-strength steel columns
Design of composite beams and
Design of weld groups subjected to eccentric and inclined loads.
SDS Module 2 "Bolt Groups Subjected to an Eccentric and Inclined Point Load" Module Two of the Steel Design Series aims to aid engineers in determining the resistance of bolt groups subjected to an eccentric and inclined point load. Three sets of charts are provided for one and two vertical rows of bolts, and for load directions within 90° of the vertical. Resistances have been calculated using the instantaneous centre of rotation method, and may be used for bearing-type and slip-critical bolted joints.
Currently available as a free download – https://cisc-icca.ca/product/steel-design-series-sds-2/
SDS Module 3 "ASTM A913 Grade 70" SDS-3 provides design tables for the selection of high-strength columns produced to ASTM A913 grade 70. The design tables include Factored Axial Compressive Resistances for heavy W360 columns, Class of Sections for W360 members in combined axial compression and major-axis bending, and Factored Moment Resistances for bending about the major axis. A solved design example is also included.
Currently available as a free download – https://cisc-icca.ca/product/steel-design-series-sds-3/