The 2020 CISC Educators Forum biennial event was held in Winnipeg, MB, on February 28-29, 2020.
The CISC brought together academics teaching steel design to undergraduate students in faculties of engineering and architecture at universities across Canada. Thanks to the generous travel support from local CISC Regional Committees and CISC Member, Gerdau. The theme of this event was "Innovative Steel".
On the first day, guest speakers included Kevin Guile (Supreme Group), and Brian Morgen (Magnusson Klemencic Associates (MKA)). They spoke on Speedcore Systems: Rainier Tower. Next, there was a Capstone Projects Workshop. Following that, Mohamad Araji (University of Manitoba) presented on Double Skin Façades: In-situ Testing for Energy Production and Hygro-Thermal Performance.
Doug Corbett (Assiniboine Park Conservancy), Kevin Guile (Supreme Group), and Michael Gray (Cast Connex) presented on the Diversity Gardens before setting off on the Diversity Gardens construction site tour. We would like to thank Gerdau for generously providing hard harts, hi-visibility vests and CSA approved safety glasses.
The day ended with a trip to the Winnipeg Art Gallery followed by a reception, dinner, and networking featuring Michael Robertson (Cibinel Architects) presenting on the WAG Inuit Art Centre Expansion.
Day two started with an educational presentation on BIM from Matt Fleming (Stantec Consulting Inc.), Ron Palma, (CAD and BIM Technologies Department, Vancouver Community College) followed by a roundtable discussion.
Next, an informative mic session followed where educators were invited to share new technology and ideas in making steel exciting for students. Craig Martin (CWB Group, CISC Education & Research Council Chairman)) and Paul Mikolich (CISC, VP of Operations) then shed light on CISC's activities and programs.
In the afternoon, the 2019-2020 CISC research grants recipients went into details on their research with an overview of the need, methods, and progress. Ali Imanpour (University of Alberta), presented on New Modular Structural System for Steel Framed Structures. Kyle Tousignant (Dalhousie University), presented on the Design of Single-Sided Fillet Welds in Tension. Muntasir Billah (Lakehead University), presented on Design of Exposed Column Base Connections Subjected to Axial Load and Bi-Axial Bending. Scott Walbridge (University of Waterloo), Improved Evaluation Methods for Fatigue Life and Toughness Assessment of Steel Bridges.
The CISC Education and Research Council wish to acknowledge and thank the companies below for their significant and ongoing contributions.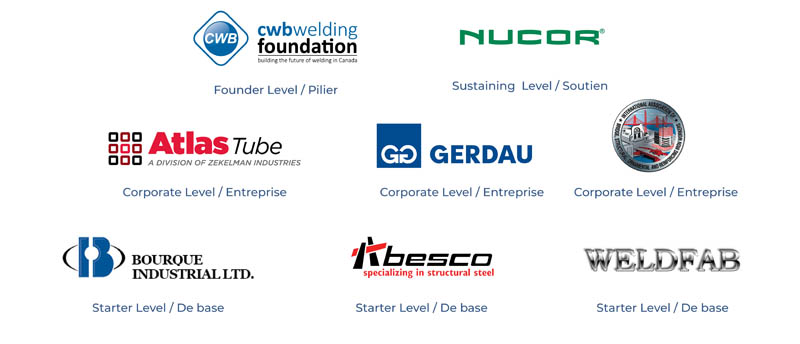 To view the full gallery of the event, click here.