Canadian exporters posted another weak month in May as a sharp drop in the volume of gold and other precious metals exports offset gains in crude oil and other energy products. Overall, exports fell by 0.7 per cent compared to April, dipping to $41.1 billion for the month. After hitting an all-time high of $46.0 billion in January, exports have fallen in three of the last four months and are now tracking below 2014 and 2015 levels.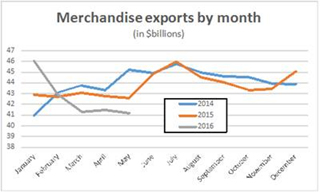 Canadian Trade Summary

Mar-16
Apr-16
May-16
Value ($billions)
Exports
41.3
41.5
41.1
Imports
44.4
44.8
44.4
Trade Balance
-3.1
-3.3
-3.3
Percentage change
Export prices
-1.3
-0.1
1.9
Export volumes
-3.3
-0.5
-2.3
Import prices
-2.0
0.0
1.0
Import volumes
-0.4
0.6
-1.0
The story was much the same on the import side as well. Foreign sales into Canada were down 0.8 per cent in May and, like exports, have declined in three of the four months since hitting a new high in January. However, the decline in imports since January has been less pronounced and, as a result, Canada's trade balance is plumbing new depths. The trade deficit in May came in at $3.3 billion – effectively unchanged since hitting a new record level in April.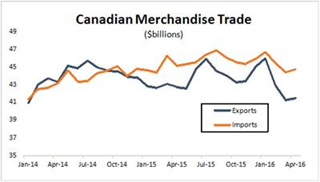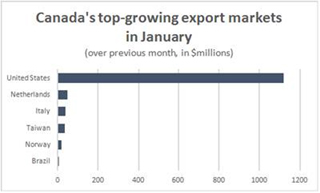 With the decline in both imports and exports since January, Canada's overall trade numbers for 2016 to date are decidedly weak. Through five months, exports are 0.6 per cent below 2015 levels, while imports are down 0.1 per cent.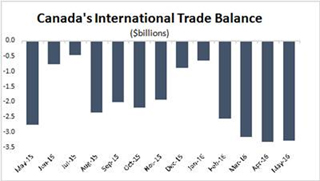 Industry-level exports were mostly to the down side in May, with eight of the eleven major product categories posting declines. Leading the way were metals and metal products, where a sharp drop in the volume of precious metals shipments brought metals and minerals exports down 5.4 per cent compared to April. Machinery exports were also down significantly, at 4.9 per cent, while lower wheat sales drove agriculture and food products down 4.2 per cent.
On the positive side, there were modest increases in exports of aerospace and forest products. However, by far the largest growth was in sales of energy products, which jumped 7.1 per cent over April on the strength of higher oil prices. It is worth noting that energy supply disruptions from the Ft. McMurray wildfires did not affect May's export volumes; that impact may appear in June data.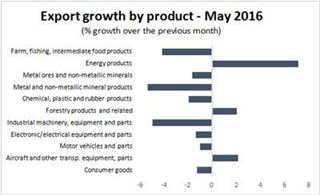 Although total exports were down in May, there was a strong uptick in sales to the United States which rose by more than $1.1 billion (3.6 per cent) compared to April. That increase is reason for optimism that Canada-US trade has turned the corner after a dismal start to the year. There were also comparatively small gains in exports to the Netherlands, Italy and Taiwan.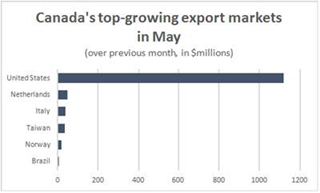 At the other end of the spectrum, there was a sharp decline in exports to the United Kingdom, which fell by $722 million (45.4 per cent). While it is tempting to attribute that decline to the results of the recent Brexit vote, these data precede the referendum and since markets had expected a "stay" victory, there is no reason to believe the decline is the result of pre-vote uncertainty. In addition, much of the decline in exports to the UK was tied to the drop in gold sales, mentioned above – the UK is by far Canada's most important export destination for gold producers.
On the import side, May's declines were concentrated in four sectors. Aerospace imports had spiked in April, but returned to more normal levels in May. Imports of machinery and equipment were also lower, as were purchases of foreign raw metals and minerals, as well as their semi-finished and finished products. Meanwhile, imports of energy and chemical products were higher.